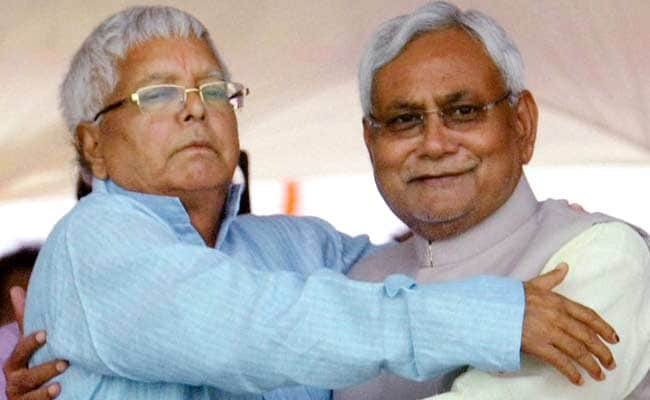 Highlights
Opposition meets in Delhi on Tuesday to discuss Vice-President candidates
Nitish Kumar decides not to attend, will send a representative
He is voting against opposition - and with BJP - for President.
Patna:
Nitish Kumar has given the
opposition
a new case of the jitters by deciding not to attend a meeting of 17 parties on Tuesday in Delhi. Allowing himself an alibi, the Chief Minister of Bihar has instead called all his party leaders including national and state lawmakers to a conclave in Patna.
In April, it was he who, along with his ally Lalu Yadav, suggested to Congress Chief Sonia Gandhi that she create a sprawling anti-BJP front. The frost test of its sustainability ahead of the 2019 national election would be putting up a joint candidate for President of India.
But then, last month, in a mega-kilowatt jolt, Nitish Kumar announced that he would, in fact, support the BJP nominee. He offered two factors in his defense: that the opposition was at that time still undecided about who it would field; and that the BJP's choice, Ram Nath Kovind, was a Governor of Bihar, making his candidate an honor for the state that he would not stymie.
Nitish Kumar's decision however was seen in the context of an increasingly friendly approach to both Prime Minister Narendra Modi and the BJP. The meeting on Tuesday in Delhi, to be chaired by Mrs Gandhi, is intended to shortlist the likely
nominee for Vice President
who will be chosen next month (after the presidential election is completed on July 17). By hoping to beat the BJP in outing the candidate, the opposition wants to ensure that it gives Nitish Kumar no reason to ditch it a second time around. Sources close to him say that he will likely depute a senior leader, possible Sharad Yadav, to represent him at the Delhi session. They also say that Nitish Kumar will likely back the opposition on its choice for Vice President - unless the BJP baits him again by selecting a leader from Bihar.
With the Chief Minister staying away from Delhi, a planned meeting with Congress Vice President Rahul Gandhi that was meant to ease heightened tensions between their parties also appears iffy. Instead, he will meet with his legislators to share his first comments on the criminal charges against Lalu Yadav.
Sources close to the Chief Minister say that he is upset with the Congress' vocal support for
Lalu Yadav, whose residence was raided
on Friday as part of a
CBI investigation
that accuses him of corruption.
Nitish Kumar, unlike the Congress, has not offered any comment
on the action against Lalu Yadav and has reported asked his party leaders to follow suit. The Chief Minister is acutely aware of the goodwill that rests in his image as an administrator who has never been linked to corruption in his three terms as Bihar Chief Minister.
In 2008, it was Nitish Kumar's party that had first accused Lalu Yadav of the charges that are now being investigated by the CBI. At the time, the two Bihar heavy weights were fierce rivals. They combined with the
Congress
after Nitish Kumar ended a 17-year alliance with the BJP when it chose Mr Modi as its presumptive Prime Minister. Nitish Kumar's recent actions signal a willingness to reconsider anew his political arrangement.