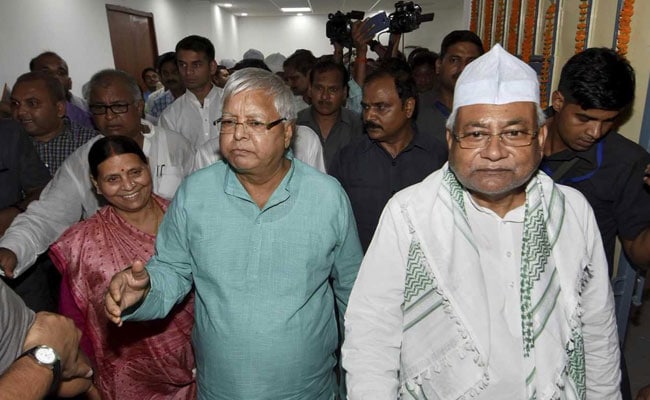 Patna:
Before the CBI raids on Lalu Yadav and his family, a call was made to Chief Minister Nitish Kumar's government, as is the practice.
It is customary to inform the Chief Minister when such action is taken against top leaders, said CBI sources. Mr Yadav's party co-governs Bihar with Mr Kumar and his 27-year-old son Tejashwi Yadav is Deputy Chief Minister.
The top bureaucrat of the government, Chief Secretary Anjani Kumar Singh, received the phone call.
Like the Chief Minister, his deputy was also aware. Tejashwi Yadav said he had called top police officers in the morning to ensure adequate security for the CBI team when it arrived at their home around 7.30 am, and made sure all their cars were parked inside the property "so that they don't have to face the crowd."
Yadav junior said he had spoken to Additional Director General of Police SK Singhal. An alert was issued from the Bihar Police headquarters cautioning all posts about possible protests by Mr Yadav's supporters and party men.
Mr Yadav, a former Railways Minister, has been accused by the CBI of facilitating a contract to a private company to run hotels after receiving a bribe in the form of a three-acre plot in Patna, where a mall is being built. Mr Yadav, his wife Rabri Devi and Tejashwi were formally charged by the CBI. To Mr Yadav's allegation that the case is political vendetta, union minister Venkaiah Naidu said the government and the BJP have no role in the CBI raids. "What is political vendetta? Where is BJP in this? I am not able to understand. Do you mean to say that anybody against whom any charge is there, it should not be inquired into at all?" he asked.
Reports suggested that when the raids started, Mr Kumar, who is in Rajgir, called senior officials for a meeting.
Mr Kumar had left for Rajgir yesterday, apparently over health issues. But his absence from Patna was seen as a political move to avoid Meira Kumar - the presidential nominee of 17 opposition parties - who arrived in the state capital to campaign. Mr Kumar has chosen to support the BJP's choice Ram Nath Kovind.
The raids on Mr Yadav come at a low point in his relationship with Mr Kumar, who has been seen as inclined to disassociate himself from his corruption-accused ally and has been accused by critics of sidling up to the NDA. His decision to back the BJP's presidential nominee is also seen to have seriously dented the Bihar "Mahagatbandhan" or alliance the two leaders formed in 2015.