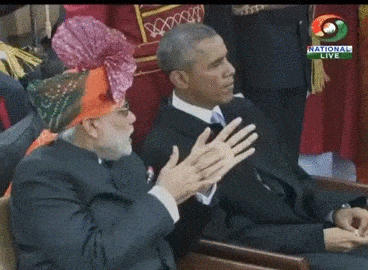 New Delhi:
While troops, tanks and helicopters showed off India's military might, cameras caught President Barack Obama, the chief guest of the Republic Day celebrations, removing his chewing gum, and then popping it back into his mouth.
POTUS was seated next to his wife, Michelle, and Prime Minister Narendra Modi, who wore a colorful safa or turban for the occasion. The President was seen moving his head to the tunes played by the military bands, but it was chewing gum that caught the attention of Twitter. Some White House correspondents cautioned that it was most likely Nicorette.
In November,
the Washington Post reported
that he is hooked to chewing nicotine gum to fight smoking. "For Obama, gum isn't about vanity. His aides described his quest to kick cigarettes as a 'lifelong struggle', " the report said.
These were some of the tweets about POTUS' chewing gum.
Obama appears to be enjoying parade, shown on Indian television bobbing his head with the music. Seems to be chewing gum, probably Nicorette

- Peter Baker (@peterbakernyt) January 26, 2015
Barack bhai working his jaws overtime and chewing gum! At least it isn't gutka. But seriously - gum during a formal parade?

- Shobhaa De (@DeShobhaa) January 26, 2015
That's his 21-gum salute RT @Vamsee9002: Just now saw Prez Obama chewing something @Travel4Life5@smitabarooah

- David B. Cohen (@DavidBCohen1) January 26, 2015
In November, President Obama was slammed on social media in China for chewing gum at the Asia Pacific Economic Cooperation (APEC) summit held in Beijing.
UK paper The Independent said
, "Several times during the conference, Obama was caught on camera chomping away, including at his arrival on Monday."