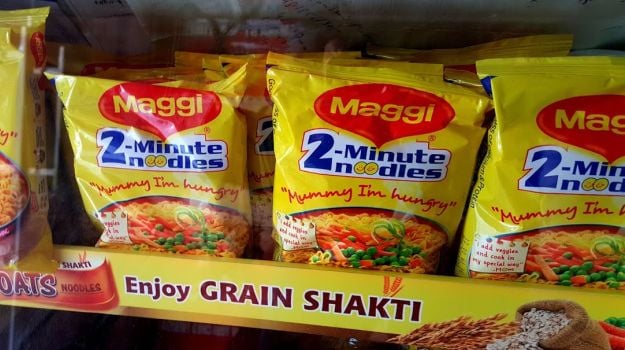 New Delhi:
Amid massive controversy, Nestle India said on Thursday night that it has decided to take Maggi noodles off the shelves, reiterating that the snack is safe and promising it will be back soon. Maggi noodles has been under country-wide scrutiny for high lead content and mono-sodium glutamate or MSG, a taste enhancer.
Nestle said in a statement, "The trust of our consumers and the safety of our products is our first priority. Unfortunately, recent developments and unfounded concerns about the product have led to an environment of confusion for the consumer, to such an extent that we have decided to withdraw the product off the shelves, despite the product being safe."
"We promise that the trusted MAGGI Noodles will be back in the market as soon as the current situation is clarified," Nestle said, emphasising that, "MAGGI Noodles are completely safe and have been trusted in India for over 30 years."
Nestle shares traded off the day's low, after falling as much as 5 per cent on Friday. Over the previous five sessions, Nestle has fallen 15 per cent because of the controversy over Maggi, which accounts for one-fifth of the company's revenues.
After
Delhi banned the sale of Maggi noodles
for 15 days on Wednesday, four states - Uttarakhand, Gujarat,
Jammu and Kashmir and Tamil Nadu
- announced temporary bans of different periods on Thursday, saying reports from lab tests showed too much lead content.
The Army too stopped the
sale of Maggi in its canteens
and issued an advisory, asking soldiers to avoid it. While lab results in Mumbai were yet to come in,
many retailers in the city
had pulling Maggi off shelves. So did Big Bazaar, the largest retail chain in India.
After it found Maggi samples to contain more than permissible limits of lead, the Delhi government on Thursday sent samples of some other noodle brands including Top Ramen and Chings' Hakka for tests.
In Ahmedabad, Union Food Minister
Ram Vilas Paswan
said he had asked his department as also the Food Safety and Standards Authority of India (FSSAI) to investigate. He also said that the government had filed a complaint against Nestle India with the National Consumer Disputes Redressal Commission (NCDRC).