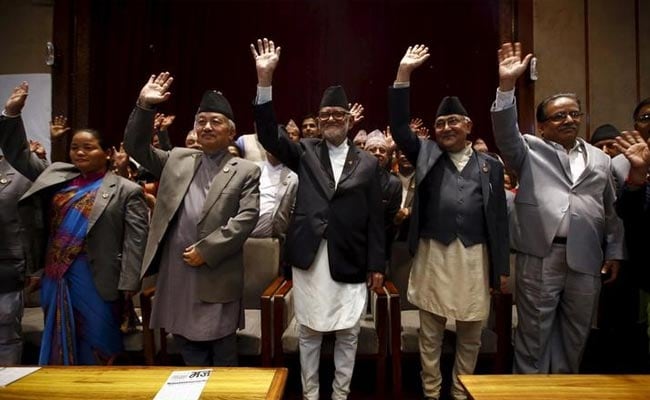 Kathmandu, Nepal:
Nepal's three major political parties today formed a committee to hold talks with agitating groups opposing the new Constitution to address the demands of the minority communities like the Madhesis and Tharus, living in Terai plains bordering India.
The three parties, Nepal Congress, CPN-UML and UCPN- Maoist have formed a three-member committee to hold dialogue with the parties and groups agitating against the new Constitution.
Nepali Congress leader and Forest Minister, Mahesh Acharya and CPN-UML Chief whip, Agni Kharel have been named as committee members, while the third member will be named later from the UCPN (Maoist) party.
The committee was formed at a meeting of senior leaders at Prime Minister's office in Baluwatar.
Senior leader of Nepali Congress, Sher Bahadur Deuba hoped that the committee will fulfil its mandate of holding talks and resolving the current volatile situation of the country.
Meanwhile, the Nepal Army personnel, who were mobilised to riot-hit areas in southern Nepal districts at the request of the local administration, have returned to the barracks.
The agitating Madhesi Front claims that the new Constitution adopted by the Nepalese parliament does not guarantee enough rights and representation to the Madhesi and Tharu communities residing in southern Nepal. Madhesis are Indian-origin inhabitants of the Terai plains bordering India.
At least 40 people have died in over a month of clashes between police and protesters from the Madhesi and Tharu communities and ethnic minorities who say the new internal borders leave them under-represented in the country's Parliament.
Last week, India had asked Nepal to address the underlying causes of the continuing unrest "credibly and effectively".