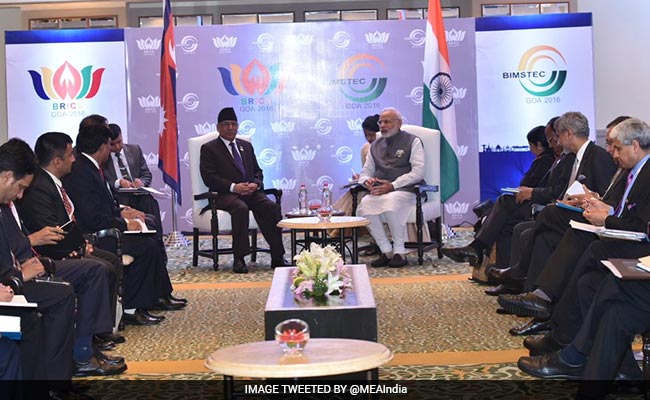 Kathmandu:
Nepal's Prime Minister Pushpa Kamal Dahal 'Prachanda' has said he raised issues of trilateral cooperation during his chance meeting with Indian counterpart Narendra Modi and Chinese President Xi Jinping in Goa to which both leaders responded "very positively".
Mr Dahal during the 'chance' trilateral meeting held on the sidelines of the BRICS Summit on Saturday had expressed Nepal's desire to act as a "dynamic bridge" between the two Asian giants and to reap the benefit of playing such a role.
During the meeting, Mr Dahal said he raised issues of trilateral cooperation in the socio-economic front, to which both the Chinese and Indian leaders responded "very positively".
"Nepal can benefit greatly from the economic progress of China and India, if there is trilateral cooperation," Mr Dahal said while talking to reporters at the Tribhuvan International Airport in Kathmandu.
"After a meeting with Chinese President Xi Jinping, I was waiting at the waiting room to return to the hotel where I was staying, when all of sudden, President Xi entered the room. This was a pleasant surprise. We discussed various bilateral issues and full implementation of deals that Nepal and China had sealed in the past," he said.
Mr Dahal said he also discussed President Xi's prospective visit to Nepal, Constitution implementation and conclusion of the peace process in Nepal.
According to Mr Dahal, when he had talked one-on-one for around 20 minutes with President Xi, the Indian Prime Minister entered the room.
"I wanted such a meeting," Mr Dahal said, terming it a "rare and pleasant surprise".
"I was sitting on a couch between the two leaders -- south of Xi and north of Modi -- just like Nepal's geographical position," Mr Dahal was quoted as saying by The Himalayan Times.
He also made it clear it was not a pre-planned meeting. "I stressed that trilateral cooperation would help Nepal benefit from their economic growth and development," he stated. India had also said both President Xi and Mr Dahal were waiting in the leaders' lounge when Prime Minister Modi also reached there as he had to go with all the BRICS leaders for an informal dinner, turning the bilateral into a 'chance trilateral'.
Mr Dahal also termed the meeting as a "pleasant coincidence" and said "it was a great pride for me".