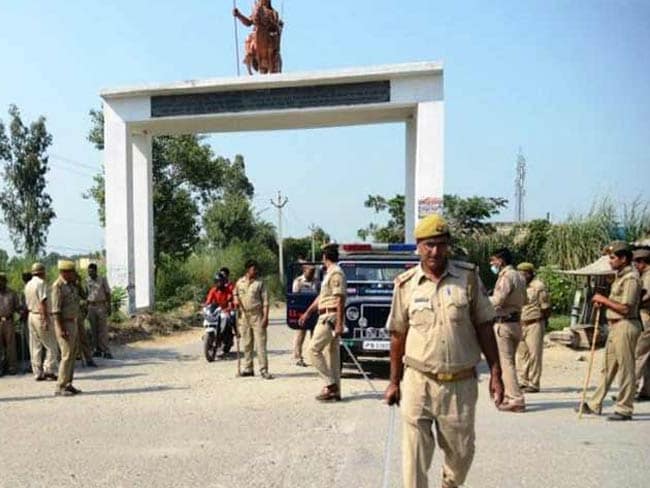 Dadri/Lucknow:
Days after a 52-year-old man was killed in a mob attack for allegedly eating beef, the Bishada village in Uttar Pradesh's Dadri is slowly returning to normalcy, even though political blame game continues over the incident.
Security continues to be tight in and around the village. Many Hindu neighbours met the family members of the victim, Mohammad Akhlaq, to express their condolences. One of them said, "Due to the tense situation, we had refrained from visiting Akhlaq's house. We have had cordial relations with the family for decades."
Children from the village went to school, and people for work even as entry of visitors remained restricted, heavy police force monitoring the situation in the village.
Akhlaq's son, Sartaj, who is a corporal with the Indian Air Force, has been provided an accomodation in Delhi. Sarjat's family has already moved into the Indian Air Force's accomodation at Subroto Park, said sources.
But Akhlaq's family members said they will stay in the village as Uttar Pradesh Chief Minister, Akhilesh Yadav has assured them of security and safety.
"Akhlaq's wife Ikrama, mother Asgari Begum, daughter Shaista and other family members are in the village house... "We will not leave the village," said Jamil Ahmad, brother of Akhlaq.
According to top officials of Gautam Budh Nagar district, Akhlaq's family has been provided round-the-clock police protection. Senior officials also visited the neighboring villages of Bishada last night and held peace meetings with residents to maintain communal harmony.
Meanwhile, the condition of Danish, son of Akhlaq, who was injured in the attack, has improved but he is yet to give a statement to the police.
But charges are still being traded by political parties.
Union minister for women and child development, Maneka Gandhi accused the Uttar Pradesh government for politicizing the September 28 attack.
"UP government is manipulating to serve its own aims. I know the two youths, the names of whom are being dragged into this. They have nothing to do with the issue. These names are being touted by the incompetent UP police and UP government which has been consistently lying," she told reporters in Delhi.
The minister's remarks came a day after Samajwadi Party chief, Mulayam Singh Yadav, without naming anyone, blamed people belonging of a particular party for the incident.