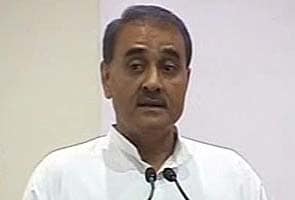 New Delhi:
After debating the contentious issue of Foreign Direct Investment or FDI in multi-brand retail in Lok Sabha for two days, the government on Wednesday won a vote on the reform in the Lower House.
Key UPA ally Nationalist Congress Party (NCP) may have voted in favour of FDI in retail in the Lok Sabha, but outside it immediately said that it did not support the policy's implementation in Maharashtra.
Just after the vote, union minister Praful Patel told reporters that the NCP does not support FDI in multi-brand retail and a decision would be taken after consultations with its coalition partner Congress. The NCP has nine Lok Sabha MPs.
In fact, NCP's Maharashtra chief has written a letter to chief minister Prithviraj Chavan saying a decision should not be taken until the NCP decides on the issue for Maharashtra.
On Wednesday, in the Lok Sabha, 471 votes were cast, 253 MPs voted against the BJP motion challenging the government's policy decision and 218 voted for it. The BSP and Samajwadi Party, which provide external support to the government, helped it win by walking out before the House voted.