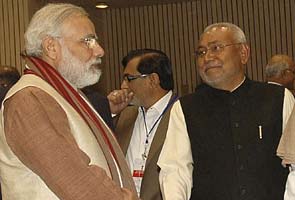 Patna:
Narendra Modi
's declaration that he wants to "repay debts to India" has been taken as an affirmation of his interest in running for prime minister, and has irritated the Janata Dal(United), which is a major ally of Mr Modi's party, the BJP.
"I don't understand what Narendra Modi meant by saying that he wants to serve the country... Anyone serving for their state is serving their country," said Shivanand Tewari of the Janata Dal(United) or JD(U).
At a book release in Gujarat last evening, Mr Modi said, "Not just me... All of us are obliged to repay our debt to the country."
The government in Bihar, a partnership between the BJP and JD(U), is headed by Nitish Kumar.
The JD(U) is also a member of the National Democratic Alliance, a coalition led by the BJP.
Mr Kumar has indicated that if Mr Modi is made the prime ministerial candidate of the NDA, he will exit the political conglomerate.
The BJP has recently acknowledged a national role for Mr Modi, but has not yet declared him its presumptive prime minister.
For Mr Kumar, the support of Bihar's Muslims, who form 15 percent of the population, is crucial. Mr Modi was in office when Gujarat was ravaged by communal riots in 2002, in which more than a thousand Muslims were killed.
Mr Kumar has made it clear that he finds Mr Modi an unpalatable ally, and has kept the Gujarat chief minister from campaigning in Bihar for the last state and national election.