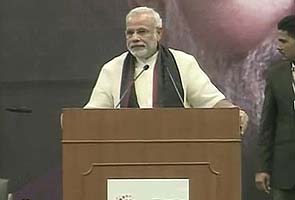 New Delhi:
Gujarat Chief Minister Narendra Modi and other top central leaders of BJP will address a conclave of the party's spokespersons, panelists and media cell office-bearers today and guide them on how to handle the propaganda ahead of the next Lok Sabha elections.
Mr Modi, who is the BJP Election Campaign Committee Chairperson, will speak on the use of social media and modern technology to reach out to the young and first-time voters.
He has maintained in earlier interactions with the party leadership that this section of voters is desperate for change. The number of people below the age of 35 is estimated to be around 65 per cent of the total population.
Leader of the Opposition in Lok Sabha Sushma Swaraj and her Rajya Sabha counterpart Arun Jaitley will inaugurate the conclave while BJP President Rajnath Singh will give the valedictory address.
BJP is also holding a one-day conclave on August 18 for its state unit presidents and office-bearers in Delhi.
Mr Modi and top central leaders will be addressing this gathering. The party is likely to get a feedback on the progress made in formation of various teams from booth-level committees and above.
BJP has launched a website to invite suggestions for its "charge sheet" against the "decade of malgovernance" of the Congress-led UPA. Party workers, supporters and the masses have been asked for feedback.