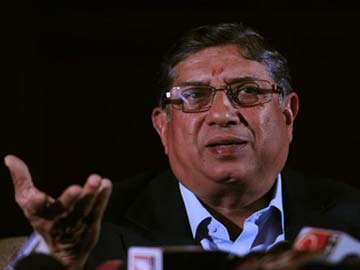 N Srinivasan has been named in a report on the spot-fixing scandal that has beleaguered the Indian Premier League (IPL), the Supreme Court said today, stressing that he cannot perform any function within India's cricket board.
Judges said that Mr Srinivasan has not taken the allegations against him seriously .
Yesterday, he asked the court to reconsider its March 28 decision to remove him as president of the Board of Control for Cricket in India (BCCI).
The judges had installed batting legend Sunil Gavaskar as the interim head of the cricket board.
Gavaskar would be made "interim working president" of the BCCI, the court had ruled, an appointment which places him in charge of the upcoming edition of the IPL.
The Twenty20 competition has been embroiled in allegations of illegal betting and spot-fixing, including against Mr Srinivasan's son-in-law, Gurunath Meiyappan.
The Supreme Court is looking at a damning report it commissioned into wrongdoing in last year's IPL when former Test bowler Shanthakumaran Sreesanth was caught deliberately bowling badly while playing for the Rajasthan Royals in return for thousands of dollars from bookmakers.
Released in February, the report also concluded that Mr Srinivasan's son-in-law Gurunath Meiyappan -- who was a member of the management of the Chennai Super Kings -- could be guilty of illegal betting on IPL games.
The Super Kings are owned by India Cements, whose managing director is Mr Srinivasan. The team is captained by India skipper Mahendra Singh Dhoni.