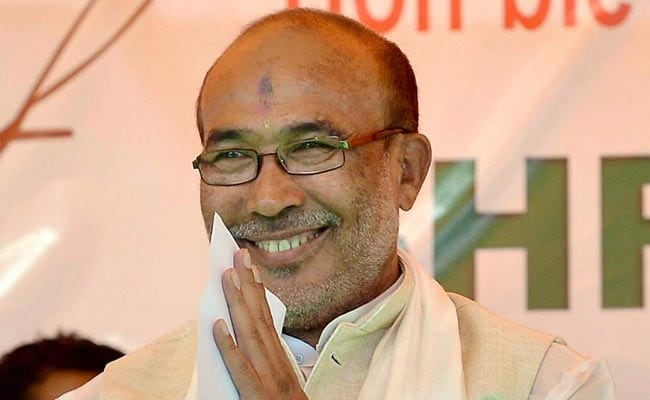 Imphal:
Nongthombam Biren Singh, the new Chief Minister of Manipur, won the crucial floor test in the state Assembly with 32 votes yesterday. Thanking Prime Minister Narendra Modi for BJP's success in the state, he said, "It is not my success, but the BJP's, the Prime Minister's success in Manipur." Biren Singh, who has worn several hats in his career, is the first Chief Minister in the country to have been a sportsman before becoming a politician. BJP's first Chief Minister in Manipur is also a former journalist.
Here's a look at Biren Singh's journey - from a football player to the Chief Minister of Manipur.
Who is Nongthombam Biren Singh?
Fifty-six-year-old Nongthombam Biren Singh hails from Luwangsangbam Mamang Leikai, Imphal East. Border Security Force (BSF) officials spotted him during a football match in Imphal when he was 18. He joined the BSF and became the first Manipuri footballer to play outside the state. He was also a part of the BSF team which won the 1981 Durand Cup defeating Kolkata-based Mohun Bagan. In 1982, he quit the BSF.
Mr Singh played football another 10 years in the Manipur state team.
In 1992, at age 29, N Biren Singh became a journalist, editing Manipuri daily Naharolgi Thoudang. In 2000, he was jailed on charges of sedition, for publishing an activist's speech, who was accused of supporting extremist groups.
Nongthombam Biren Singh's Political Journey
Nongthombam Biren Singh has been representing the Heingang assembly constituency since 2002, the year he contested his first election as a member of the Democratic Revolutionary People's Party. In 2003, Biren Singh joined the Congress party. He was the state cabinet minister, in charge of several departments. A close aide of former chief minister Okram Ibobi Singh, the two leaders fell apart after Biren Singh was left out of the cabinet in 2012 elections.
In October 2016, Biren Singh joined the BJP.
The BJP, which fought elections for the first time in Manipur, won 21 out of the 60 seats state assembly. On March 20, the party won the floor test in the Manipur Assembly with 32 votes.