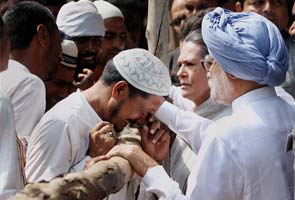 Muzaffarnagar:
As Muzaffarnagar district in western Uttar Pradesh - ravaged by week-long communal riots in which nearly 50 people were killed and over 40,000 displaced - returns to normalcy, the state administration has decided to withdraw the army.
All 8 columns of the Indian Army, called for the first time in Uttar Pradesh in two decades to control communal clashes that started on September 8, have been asked to return to the Meerut cantonment tomorrow.
Paramilitary forces, however, will continue to be deployed in the district. (
Riots started with this teen's harassment, say some
)
The administration has also decided to close all liquor shops in the district by 7 pm.
Senior Superintendent of Police, Pradeep Kumar, told NDTV today that the investigation into the communal violence has begun by a special cell consisting of 30 police inspectors and three Deputy Superintendents of Police.
The decision to remove army came hours after Prime Minister Manmohan Singh, Congress chief Sonia Gandhi and her deputy Rahul Gandhi visited Muzaffarnagar today, a move labeled as 'secular tourism' by the opposition BJP and the Samajwadi Party. (
Security for VIPs, but none for us, say villagers to Gandhis
)
Chief Minister Akhilesh Yadav, who visited the district yesterday, has vowed to book the Muzaffarnagar rioters under the National Security Act.
Four BJP state legislators, one from the Congress and two from the regional Bharatiya Kisan Union have been booked for making inflammatory speeches leading to the violence.