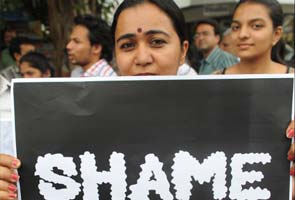 New Delhi:
For 30 minutes, the young photo-journalist was raped, allegedly by five different men who have all been arrested. Before they let her go, they asked her to clean up the scene of the horrific crime.
Then they took two photos of her on a cellphone and warned that if she reported them, they would release the photos on social networks.
Then they untied the 22-year-old's male colleague who had accompanied her on Thursday evening to shoot a deserted textile mill.
These are some of the chilling details listed by the Mumbai police in court today. Four suspects will remain in their custody till August 30. The fifth, who was found in Delhi this morning, will be moved soon to Mumbai, sources said.
The survivor is recovering in hospital, and is spending time watching television and talking to her family, said sources. She said last night to a visitor from the National Commission of Women that "rape is not the end of life" and she hopes to get back to work soon.
The photo-journalist and her friend have been praised by doctors and police for reporting straight to hospital, escorted by their supervisor who they had phoned for help. Samples collected from the survivor and her clothes will help establish the guilt of the suspects, the police said.
Shortly after being hospitalised, the photographer recorded a long statement for the police which helped them draw up a sketch of the suspects and locate them.
It's not clear how Salim Ansari managed to escape to Delhi. Another accused, Kasim Bangali, went underground for two days after a policeman phoned him to check on his whereabouts on Thursday evening.