Agartala:
Highlights
From a paltry 2000 supporters, BJP now has over 2 lakh members in Tripura
Amit Shah is spending 2 days in the state to strengthen party position
The Left has been in power in Tripura 5 consecutive terms
As part of his tour to states where BJP needs to strengthen its position, party chief Amit Shah will spend two days in Tripura. The BJP national president landed in the state capital Agartala this morning. Despite Chief Minister Manik Sarkar's clean image, anti-incumbency has struck Tripura, where the Left government has been in power for five consecutive terms. With elections in the state due early next year, the party's national executive of the party has now marked Tripura as one of the key focus areas.
The BJP's "Look-East policy" has already resulted in a takeover of three of the seven north-eastern states - Assam, Arunachal Pradesh and Manipur - dislodging the Congress.
The ruling Left Front has 50 legislators in the 60-member assembly, the BJP has none - a situation reminiscent of Assam, where the BJP had gone from zero to 64 in last year's assembly polls in the 126-seat assembly.
From a paltry 2000 supporters, the number of BJP members has gone up to more than 2 lakh over the last three years in Tripura. In a show of strength, the party workers held a massive motorbike rally in Agartala yesterday.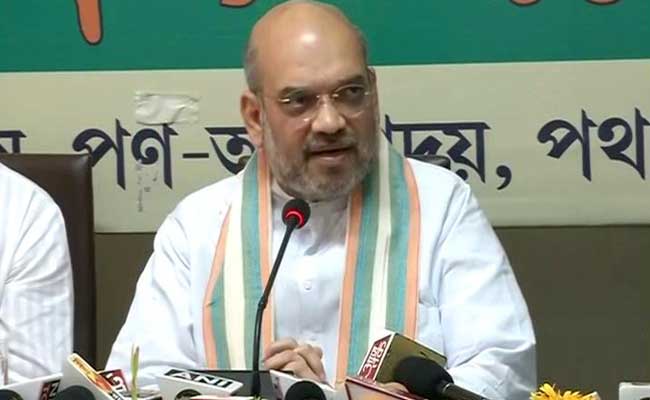 "Our fight is with the communists who are finished globally and the Congress, which is finished nationally," Amit Shah told reporters after landing in Agartala airport. The party, he said, has also received feelers from leaders of "other political parties" who want to switch over Mr Shah said.
The joining of leaders from rival parties have contributed to BJP's win in a big way in Assam. Support from rival leaders in Manipur also played a key role in its government formation in Manipur.
Former Congress leader Himanta Biswa Sarma, who was the BJP's biggest acquisition in Assam and its architect of victory in last year's assembly elections, said, "The work has begun for the party to aggressively assert itself. We will build up from this visit of party president".
"The development funds have gone to the coffers of the Communists. Here the chief minister flies even small distances on a chopper. When outside the state, he travels by trains. He and his government are two-faced," said a BJP supporter who traveled 100 km to Agartala for Mr Shah's visit.
Get Breaking news, live coverage, and Latest News from India and around the world on NDTV.com. Catch all the Live TV action on NDTV 24x7 and NDTV India. Like us on Facebook or follow us on Twitter and Instagram for latest news and live news updates.