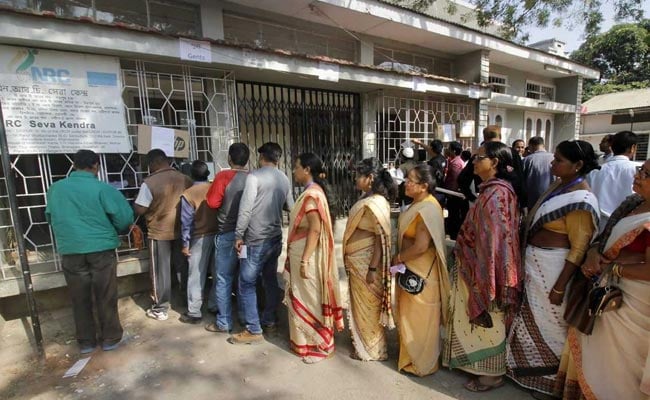 Guwahati/New Delhi:
Assam's massive exercise to weed out illegal immigrants has thrown up than one kerfuffle. Among those included in the list of 1.9 crore legal Indians out of 3.29 crore applicants in the first draft of the National Register of Citizens or NRC is the self-styled commander-in-chief of the banned United Liberation Front of Asom (ULFA) militant group Paresh Baruah - one of India's most-wanted. Among those
not
in the list are two parliamentarians. Radheshyam Biswas, a lawmaker from Karimganj and Badruddin Ajmal from Dhubri are members of the Lok Sabha from opposition AIUDF party but have not made the first cut.
Here are 10 latest developments in Assam's exercise to publish the NRC:
"I have 35 family members but only four names were there in first draft NRC released by the government. We are waiting for the second list patiently and hope they would be there in second draft. Otherwise we have no option than to approach Supreme Court," Badruddin Ajmal told NDTV.

Radheshyam Biswas said all 14 MPs of the party are getting complaints from their districts. But it is not just these MPs. Several legislators from Assam, including three from the ruling BJP, have also not made it to the first list.

The union government maintained that there was still time for all other names which are at various stages of verification. According to the Home Ministry, lakhs of documents sent to other states for verification are yet to come back.

"We are taking this exercise very seriously. All legitimate citizens' names would be included in the list," junior Home Minister Kiren Rijiju told NDTV.

Registrar General of India Sailesh said, "There is no need to panic as there is ample time. The process is going on. Substantial progress has been made, but still a lot of work needs to be done."

At Nellie village, in the Morigaon district, Muhammad Abu Taher and his son are among those who did not make it to the first list. "My own name and my son's name do not figure though my wife's and daughter's name are there although we gave the same legacy data. So I am worried," Mr Taher told NDTV.

Many Bengali-speaking Muslims in Assam, who have often been branded Bangladeshis, are also worried. "We came with a hope that we will be on the list and those who are Bangladeshis will be left out. We don't have full confidence whether we will make it to the second list," said Mohammad Aznur Ali.

But native communities in Assam see this as one step closer to driving illegal settlers out. "If they make a proper NRC, we will get a cleansed Assam," said Suren Bordoloi, a local resident, at Nellie which saw a huge massacre of settlers with Bangladeshi roots in 1983.

Migrants have long been accused of illegally entering the state from Bangladesh and taking land, causing tensions with local people and sporadic outbreaks of communal violence. The subject has been a hot-button issue that has also influenced the state's politics for decades.

The first draft of the new NRC was published with 1.9 crore names at midnight on December 31, as part of a Supreme Court-monitored exercise. Anyone living in Assam has been asked to prove that their forebears appeared either in the state's only previous register of citizens, compiled in 1951, or on any electoral roll published before March 1971 to be eligible for citizenship.