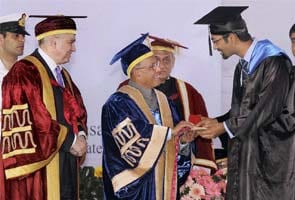 Kashipur:
Uttarkhand's first and the nation's youngest Indian Institute of Management (IIM) bid farewell to its first batch of students yesterday. Nestled at the foothills of the Kumaon region, surrounded by more than 200 industrial units and companies, IIM Kashipur promises to churn out students who are best in the world of business.
37 students graduated from the new fledging IIM. The grand finale of their academic life was to receive their diploma from the man who once had his finger on the pulse of the economy, President Pranab Mukherjee. (
Read: Indian universities should be in the top league, says President Pranab Mukherjee
)
With the fattest paycheck on campus and an overseas assignment in Dubai, 23-year-old Kaif has every reason to celebrate. Kaif says he feels great to be able to finally graduate, but he adds that what you learn at an IIM takes you beyond salary slips.
However, his brother disagrees. Saif says he wants to take an international holiday and a Mercedes. And it is his brother who will foot the bill for these luxuries.
But studying out from this makeshift campus has not been easy. These 37 young men had only books and management gurus for company.
Kapil, a graduating student, says he was starved of female company. "There were no girls in our batch. It was so depressing. We had to travel to Delhi to meet them," jokes Kapil.
But now, the opposite sex is finally making its presence felt on campus.
Swapnil, a junior is clearly outnumbered in a batch of 42 students. But she says that her course-mates are gentlemen and they make her feel like a lady. "I don't feel that I am surrounded by men. I feel one of them. They are very well behaved," she giggles.
Amit Garg is the first official nerd of the college. He hates the tag and says topping the batch was accidental. "I'm not really the nerd of the batch but I am happy I got the gold medal," he says.
But despite academic excellence, getting jobs hasn't been easy either. Kashipur maybe a manufacturing hub, but luring head-hunters has been a challenge.
Pranav, a first year student, who still has months to go before placements, says "Getting companies to the campus has not been easy. The place has its disadvantages. We are a bit cut off."
However, with 80 per cent students already placed, there is little to worry about. And they are confident that brand IIM will continue to work its charm.
Pawan, another student from the second year, is confident of the magnetic pull of brand IIM. He "It is not IIM Kashipur, it is an IIM first," he says.
For now these students have every reason to celebrate. And tossing their boat hats in the air is the perfect way of doing it.