Lucknow:
Highlights
Slaughterhouses, butchers say being unfairly targeted under crackdown
Chief Minister Adityanath had said legal abattoirs would not be touched
Crackdown has adversely hit livelihood of lakhs of people, say traders
Meat sellers in state capital Lucknow and in many other districts of Uttar Pradesh, including big cities like Allahabad, have announced
an indefinite strike
from today against Chief Minister Yogi Adityanath's crackdown on slaughterhouses. The Chief Minister has underscored that his order of closure applies only to illegal slaughterhouses and
abattoirs operating legally will not be touched
.
Minister Siddharth Nath Singh has also cautioned officials against shutting down establishments for minor fixes like CCTVs etc. "Vigilantism by police is unacceptable," said Mr Singh, urging officials to not be "overexcited" in crackdown.
But meat sellers have complained that they are being raided by the police despite having licences. They also say that a shortage of supplies has forced them to close shop.
"We have decided to intensify our strike from today. All shops will remain closed. Fish sellers too have joined us and are extending support to us. The crackdown on slaughterhouses has adversely hit the livelihood of lakhs of people," Mubeen Qureshi, an official of the Lucknow Bakra Gosht Vypar Mandal, said.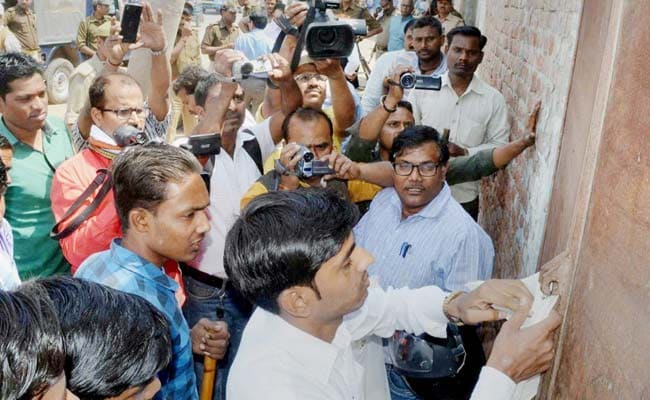 In Noida, about an hour's drive from Delhi, butcher shops said their incomes had fallen by as much as a half because of the crackdown. "The authorities are even closing down chicken shops," said one shop owner. Even shops that were able to provide the required papers were asked to install
purdahs
or
curtains
in front of them, they said. Others complained that the government was dragging its feet on issuing fresh licenses and renewing old ones.
But the police maintained they were following procedure. "It is the police's job to check papers. Some people are closing their shops themselves because they do not have renewed licenses," said Sujata Singh, Superintendent of Police of Gautam Budh Nagar.
Due to
the clampdown
, non-vegetarian food outlets in Lucknow, including the famous Tunday Kebabs and Rahim's have switched to mutton and chicken dishes due to non-availability of buffalo meat.
After taking charge of India's most populous state last week, the Yogi Adityanath government
ordered closure of illegal slaughterhouses
and strict enforcement of the ban on cow smuggling to fulfill
a key election promise
.
Responding to complaints about loss of income, BJP spokesperson Sambit Patra said, "If there is large-scale disruption, the state government will look into it and resolve the issue."
(With inputs from PTI)