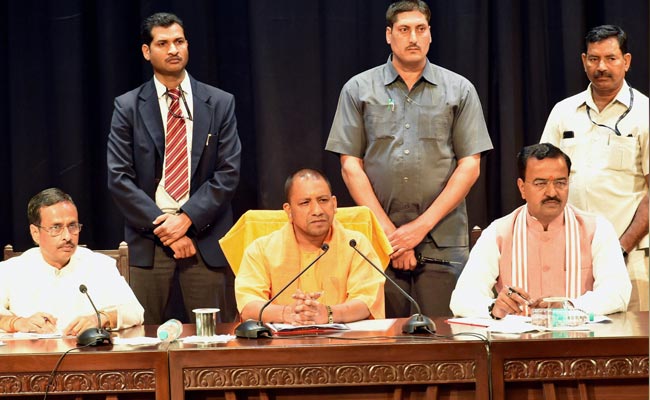 Highlights
Yogi Adityanath asks police for action plan to close slaughterhouses
Calls for 'zero tolerance' on cattle smuggling
Officers say ban will be restricted to illegal slaughterhouses
Lucknow:
Uttar Pradesh Chief Minister Yogi Adityanath, out to deliver on
poll promises
at breakneck speed, today directed police officers to work on shutting down slaughterhouses. For the first time, he clarified that only
slaughterhouses without licences
will be shut down. Those with licences should follow all rules, he reportedly said at a meeting this evening.
The Chief Minister has also ordered a blanket ban on cattle smuggling and said there must be "zero tolerance" in such cases.
Slaughterhouses allegedly running without permits have been shut down in Allahabad, Varanasi, Agra and Ghaziabad over the past two days. There have been reports of inspections across the state.
The BJP, which won a giant-sized victory in Uttar Pradesh, had said in its manifesto that illegal slaughterhouses and large, mechanised abattoirs would be closed. But party chief Amit Shah had said while campaigning that the aim was to shut down slaughterhouses, which led to confusion.
The
BJP manifesto
also focused on ending cattle smuggling, calling it the reason dairy-based industries have failed to flourish in UP. The party said there has been a "fall in cattle count" during the previous Samajwadi Party rule.
In his orders, Yogi Adityanath also directed the police to act tough against anti-social elements. He warned that those using police security as a "status symbol" would be watched and their security could be changed based on a review of the threat they face.