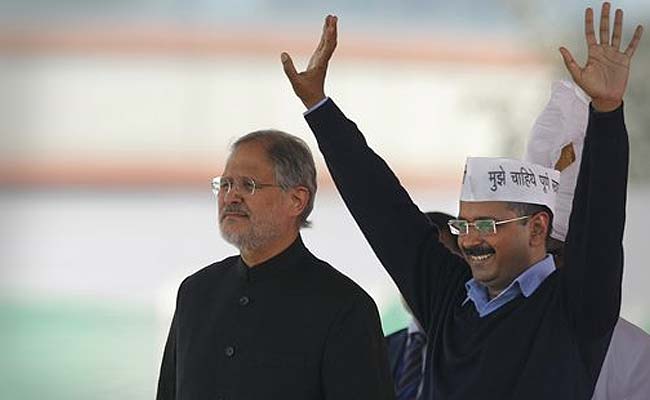 New Delhi:
Reacting to Arvind Kejriwal's
interview to NDTV
, Delhi Lieutenant Governor Najeeb Jung has said the chief minister should be forgiven as he doesn't know what he says.
"May god forgive him for he knows not what he says," Mr Jung said.
In his first interview since becoming Delhi Chief Minister, Mr Kejriwal launched a scathing attack on the Delhi Lieutenant Governor, accusing him of acting like a polling agent of the BJP.
Slamming Mr Jung, Mr Kejriwal said he does not give time even to Deputy Chief Minister Manish Sisodia or other Delhi ministers for a meeting or take his calls. "But if the 'chowkidar' (watchman) of (BJP President) Amit Shah calls him (L-G), he will crawl and go."
He also said that PM Narendra Modi and BJP president Amit Shah must accept the fact that Delhi has voted the AAP to govern Delhi and only it will run the Capital and
not the BJP by proxy
.
"Delhi people have voted for us and the rest of the country supported Modi. So please let us run Delhi and you (Modi) run the country. Don't create trouble for us every day through the L-G. This is not being a good Prime Minister. Taking revenge for losing Delhi from people and AAP is not right," he said in the exclusive interview to NDTV.
The BJP lashed out at the Delhi chief minister. "Arvind Kejriwal is insecure and incompetent," BJP's Shaina NC said.
Kiran Bedi, who was BJP's chief ministerial candidate in the elections held in February, said the comments made by Mr Kejriwal are "highly derogatory and defamatory". "The words he has used does not befit a constitutional position. This will only increase hostilities. Has he seen the Lt Governor crawl? Why such words? Has he any proof of such negativity?"
Mr Kejriwal, who led his Aam Aadmi Party (AAP) to an unprecedented poll victory in Delhi last year bagging 67 out of 70 seats, has been locked in a tussle with the L-G over transfer and posting of officials.