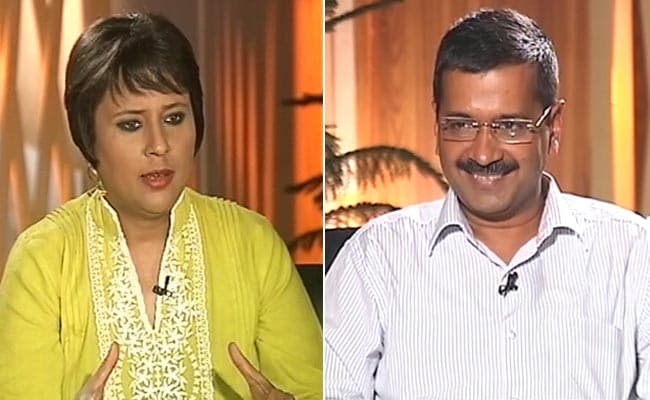 New Delhi:
Locked in a bitter standoff with the Centre, Delhi Chief Minister Arvind Kejriwal today hit out at Prime Minister Narendra Modi, accusing him of being "revengeful" towards his government and the people of Delhi after BJP's staggering defeat in Delhi polls.
Mr Kejriwal was even more strident in attacking Delhi's Lieutenant Governor Najeeb Jung, calling him as BJP's "polling agent" who had turned his official residence into "BJP headquarters".
"Delhi people have voted for us and the rest of the country supported Modi. So please let us run Delhi and you (Modi) run the country. Don't create trouble for us every day through the L-G. This is not being a good Prime Minister. Taking revenge for losing Delhi from people and AAP is not right," he said in an exclusive interview to NDTV, sending out a message to PM Modi.
Slamming Mr Jung, Mr Kejriwal said he does not give time even to Deputy Chief Minister Manish Sisodia or other Delhi ministers for a meeting or take his calls. "But if the 'chowkidar' (watchman) of (BJP President) Amit Shah calls him (L-G), he will crawl and go."
Alleging that the "LG house has become another BJP headquarter", Mr Kejriwal said, "He (L-G) is acting like a poll agent of BJP."
Mr Kejriwal, who led his Aam Aadmi Party (AAP) to an unprecedented poll victory in Delhi last year bagging 67 out of 70 seats, has been locked in a tussle with the L-G over transfer and posting of officials.
"Narendra Modi is after us... He doesn't want us to be successful... If we replicate our success (of 67 out of 70 seats) elsewhere, it will be a big problem for BJP. That is why they have come down to take revenge against Delhi public," he told NDTV.
He said Mr Jung's actions are "exposing" PM Modi because people are accusing the Prime Minister for the fight between the L-G and Mr Kejriwal's government.
Alleging that the Central government is trying to "corner us using the L-G", Mr Kejriwal asserted, "Narendra Modi should know that I am not Rahul Gandhi."
He dared the Prime Minister and the Union Home Ministry to go to court over the transfer and posting of officials, which has been a bone of contention because of jurisdictional issues.
Mr Kejriwal accused the Centre of using the Lieutenant Governor to "create trouble for us". He said the Centre is "targeting us" using the Delhi Police as well.
The Chief Minister said the Centre was trying to destabilise his over three-month-old government. "This is the Delhi experiment of BJP which would be implemented in other states. Chief Ministers of other states would have to raise their voice because it may be their turn next."
He thanked Bihar Chief Minister Nitish Kumar for making available to Delhi five policemen from that state.
He, however, insisted that there was no "political back channel" talks with Mr Kumar or even West Bengal Chief Minister Mamata Banerjee.
Claiming that his relations with Mr Jung are "very good" and "when we meet we hug each other", the Chief Minister said, "But what can the poor man (L-G) do? He needs to save his job".
On the controversy surrounding induction of the Bihar policemen in the Anti-Corruption Branch (ACB), Mr Kejriwal said it had not happened for the first time as police officials have come from Andaman as well. "It happened during Sheila Dikshit's time," he added.
With regard to the jurisdiction over high-level appointments in the wake of a row over naming of Shakuntala Gamlin as Acting Chief Secretary, he said, "Legally we are right. The High Court has also given its verdict. Posting or work allocation of officials is our prerogative. We are answerable to the public not the L-G."
Last month, the L-G had named Ms Gamlin as Acting Chief Secretary when the Chief Secretary KK Sharma went on leave, which was objected to by the Kejriwal government, triggering a tussle.
On the episode involving alleged suicide by a farmer from Rajasthan Gajendra Singh during an AAP rally a few months back, Mr Kejriwal said it was "probably" his "biggest regret" of 100 days in office. "I think we could have acted differently that day."
He also dismissed allegations of his being "autocratic" and said "as long as I am the National Convenor (of AAP) and the Chief Minister, I have to take decisions".