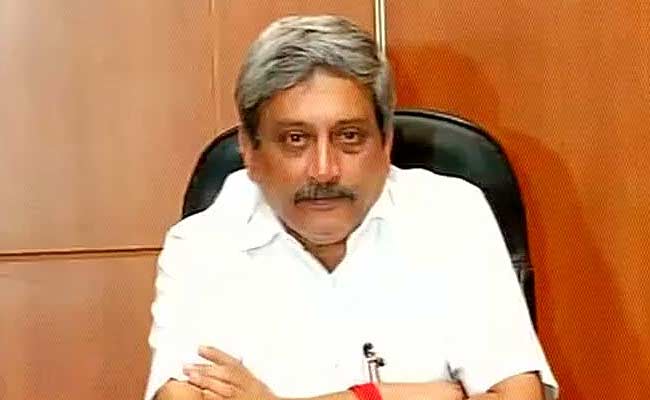 Porvorim:
Goa Chief Minister Manohar Parrikar, who is headed to Delhi this weekend to take up a cabinet berth at the Centre, had tears in his eyes on Friday evening, during his last Cabinet briefing in Porvorim, as he explained why leaving Goa is difficult for him.
"It is very difficult for me to leave the state. I have lost my wife about 12-13 years ago, it is difficult family wise. But nation is first," said the 58-year-old IITian, who has been Goa's chief minister thrice. He is tipped to be India's next Defence Minister.
"I did the best I could do for Goa", said the emotional Chief Minister.
Mr Parrikar's wife Medha was in her early 40s when she died of cancer in 1999, a month before he was sworn in as Goa's chief minister for the first time. Mr Parrikar lives in a large joint family in Goa. He has two sons.
Earlier today, the Goa Chief Minister said he would resign on Saturday after the BJP's Parliamentary Board, made up of the party's topmost leaders, approved his move to Delhi. He also said that Goa's new chief minister would be sworn in tomorrow.
He met the BJP's Goa legislators today and said, "I have briefed the state cabinet because of the invitation from the PM to join his cabinet on the afternoon of November 9."
While he has refused to talk about what ministry he will head at the Centre, Mr Parrikar told NDTV, "I give you a guarantee that if I do get the Defence Ministry, I will be clean, transparent and open. On November 9, I will complete 20 years in politics, without a single stain or allegation against me."
To be a central minister, Mr Parrikar has to be a member of Parliament; he said he will seek nomination to the Rajya Sabha, or Upper House, from Uttar Pradesh.