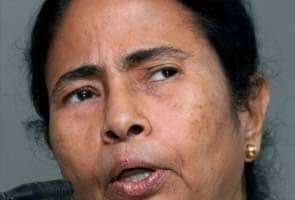 Kolkata:
West Bengal Chief Minister Mamata Banerjee will be in Mumbai on Thursday to meet businessmen and film personalities in her bid to attract investments for her state.
This is Ms Banerjee's maiden trip to the country's commercial capital after taking over the reins two years ago.
Accompanied by key aides, including Finance Minister Amit Mitra, Industries Minister Partha Chatterjee and departmental secretaries, Ms Banerjee will address industry captains at the World Trade Centre in Mumbai where the Ambani brothers are expected to be present among others.
"I along with several of my ministers and departmental secretaries will today (Wednesday) leave for Mumbai where I will address industrialists at a meeting Thursday," Ms Banerjee said in Kolkata on Wednesday.
Along with the industry captains from Mumbai, their counterparts from the eastern metropolis including ITC chairman YC Deveshwar, RP-Sanjiv Goenka chairman Sanjiv Goenka and Ambuja Group chairman Harsh Neotia are likely to attend the meeting.
Invites to industrial houses, including the Tata Group and Reliance, have been sent.
With actor Shah Rukh Khan - the state's brand ambassador - likely to be a certainty, there are also talks of the presence of megastar Amitabh Bachchan and other film personalities both from Mumbai and Kolkata.
The Banerjee administration has been organising industry summits in Kolkata for the past two years to attract investment to West Bengal.