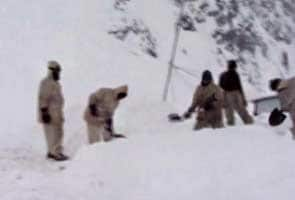 Srinagar:
The death toll in twin avalanches in Jammu and Kashmir went up to 19 by Thursday afternoon, with all the casualties being army personnel, the army said. Three soldiers are still missing.
At least 16 army personnel were killed in Dawar in Bandipora district. Another three were killed in the avalanche in Sonamarg area of Ganderbal district, army officials said. Both the areas are in north Kashmir.
"We have recovered nine bodies in Dawar while seven soldiers are still feared to be under the debris," according to Lieutenant Colonel JS Brar, spokesman of the army's Srinagar-based 15th Corps.
"Earlier today, 13 soldiers were rescued from the avalanche debris in Dawar village of Gurez sub-division where an overnight avalanche struck the brigade headquarters. Dawar is in Gurez subdivision, 109 km Srinagar.
"Three soldiers of the territorial army, including a junior commissioned officer, were killed in another overnight avalanche in Sonamarg area of Ganderbal," Colonel Brar added.
Ganderbal is located 87 km from Srinagar.
Over a dozen hutments were also swept away in another avalanche in Ramwari area of Ganderbal district late night on Feb 22. There were no casualties as these hutments are used by the nomadic Bakerwals during summer.