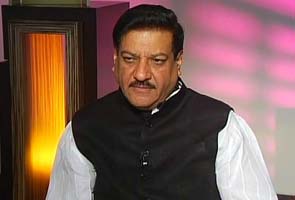 New Delhi:
Intensifying its attack on Team Anna, the Congress today asked the group of activists to declare its political affiliations and ambiitions.
"If you want to take part in politics, you must join it; politics will be enriched. It is now amply clear that his (Anna's) associates want to join politics," Maharashtra Chief Minister Prithviraj Chavan said.
"Staying out (of politics) and tacitly supporting or opposing any party is not done... Instead of this, say publicly that I support such and such political party, that I support such and such ideology," Mr Chavan told a Marathi channel.
Another senior Congress leader, Digvijaya Singh, who had recently alleged that the Gandhian was being used as a "scapegoat" by his team members to fulfill their political ambitions, asked Anna to also clarify his stand on reservation. Mr Singh's remarks follow Anna's announcement that his core committee will be revamped to ensure representation for Dalits, Muslims and the youth.
"Anna and Kejriwal should clarify what is their stand regarding Reservation. Both have opposed reservation publicly," Mr Singh tweeted.
Anna's hometown of Ralegan Siddhi is in Maharashtra; he enjoys a good rapport with former chief minister Vilasrao Deshmukh, who proved to be a key mediator between Anna and the government during the activist's epic hunger strike in Delhi in August. Mr Deshmukh has handled Anna through a few fasts in Maharashtra. Mr Chavan lacks that experience. This week, Anna wrote to him attacking him for urging the central government to clear the Lavasa project- a huge township that's being built as a hill station near Pune.
Meanwhile, Anna's former blogger, Raju Parulekar, continues to charge that key members of the activist's inner circle have hidden agendas.
"Anna Hazare has no political motives. Kejriwal, (Shanti and Prashant) Bhushans, (Kiran) Bedi, Manish Sisodia and Kejriwal's employee team are using Anna's moral power for their political ambitions," he posted on Twitter.
Mr Parulekar fell out with Anna over a blog in which he said the anti-graft crusader was upset with aides like Mr Kejriwal.