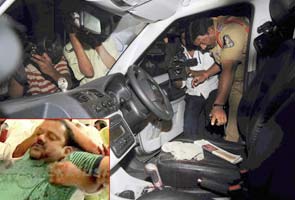 Hyderabad:
Gangster-politician Suryanarayana Reddy alias Maddelacheruvu Suri, a key accused in former Andhra Pradesh minister and Telugu Desam Party (TDP) leader Paritala Ravi's murder, was shot dead, allegedly by his close aide in Hyderabad on Monday.
The shooting took place at Navodaya Colony in Yousufguda near the posh Jubilee Hills area Monday evening, police said.
Suri, a Congress leader involved in several criminal cases in the faction-ridden Anantapur district, was taken to Apollo Hospital, where he died while undergoing treatment.
"He was brought to hospital at 5.45 p.m. in an extremely critical condition and despite our best efforts it continued to deteriorate and at 7.55 p.m. he sustained cardiac arrest and could not survive," a hospital spokesman told reporters Monday night.
According to doctors, Suri sustained two gunshot injuries in the brain. Also an accused in the 1997 Jubliee Hills bomb blast case, 39-year-old Suri was released from jail a year ago.
Suri was shot when he was returning home after meeting a lawyer at Navodaya Colony in Yousufguda, said Hyderabad Police Commissioner A.K. Khan.
He told reporters that two people sitting in the car were suspected to have shot him from behind. The assailants fired two rounds, which pierced Suri's head and neck and he collapsed on the front seat.
"The car driver is the only eye witness and we have to verify his version," Khan said.
The police have formed special teams to track down the attackers. Unconfirmed reports said police have taken into custody Bhanu, a close aide of Suri. He allegedly shot him from behind. Following the incident, police went on high alert in Anantapur, the native district of Suri.
Ravi, a former minister and leader of the state's main opposition TDP, was gunned down in Anantapur town Jan 24, 2005, allegedly by Suri's followers.
The factional rivalry between the families of Ravi and Suri recently hit the national headlines following the release of
'Rakta Charitra'
, a multilingual film by Ram Gopal Varma.
The movie starring Vivek Oberoi and Surya as Ravi and Suri respectively, triggered a row with peace activists and NGOs opposing it on the grounds that it could lead to a fresh spell of violence.
While
'Rakta Charitra'
was released in October, its sequel
'Rakta Charitra II'
hit the screens last month. Varma had even visited Anantapur jail in 2009 to meet Suri before producing the movie.
Last month, Suri had visited Bangalore to watch the preview of
'Rakta Charitra II'
and was satisfied with the way he was portrayed.
Dozens of people were killed in the rivalry between the two families, which began when Suri's father Gangula Narayana Reddy allegedly got his rival P. Sriramulu killed. The latter's son Ravi too revenge by eliminating Narayana Reddy, several of his aides and family members. Ravi allegedly tried to kill Suri through a television bomb in 1993.
Suri was not at home but five of his relatives were killed. Suri retaliated with a car bomb blast at Jubilee Hills in Hyderabad in 1997. Though Ravi escaped unhurt, 26 people were killed and many injured in the bomb blast.
Suri, who was sentenced to life in the blast case, continued to call the shots even from the confines of his cell and got killed many ivals including Ravi through his aides. He was released after the government granted remission on grounds of good conduct.
After being released from jail, he had been living in Bangalore and Hyderabad.
According to police, Suri was staying in an apartment in Madhapur, the IT hub. He was also allegedly involved in several land deals and settlements in Hyderabad, Bangalore and Vijayawada. Suri's wife G. Bhanumati had unsuccessfully contested the 2004 assembly elections as a candidate of the Congress.
Anantapur district is part of the backward Rayalaseema region, notorious for factional killings. Factions backed by political parties have been engaged in bloody battles for decades for supremacy in villages, especially in Anantapur district.
The faction members are notorious for the merciless manner in which they eliminate their rivals. More than 500 people have been killed in factional violence over the past 15 years.