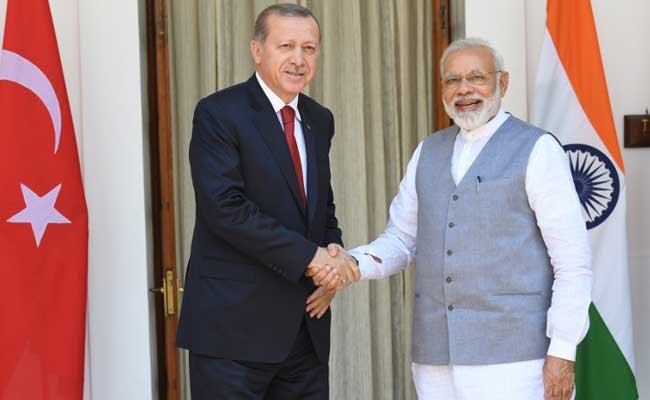 Turkey's Recep Tayyip Erdogan is on his first foreign visit to India after assuming the position as the President. On top of his agenda are, trade negotiations and India's entry into the Nuclear Suppliers Group and counter terrorism. Prime Minister Narendra Modi is holding a bilateral talk with Mr Erdogan in Delhi's Hyderabad House. Towards the end of the talk, both the country heads are expected to present a joint statement. He was given a ceremonial welcome by President Pranab Mukherjee and PM Modi this morning. India and Turkey have called for aggressive efforts to deepen economic relations. One of the major highlights the Turkish President's visit were his
controversial remarks on the Kashmir issue
. He suggested a "multi-lateral dialogue". Ahead of his arrival in India last evening he had offering to mediate between India and Pakistan. India has always firmly ruled out third party mediation on Kashmir.
An agreement on cultural exchange programme for 2017-2020 was signed.
Two memorandums of understanding (MoUs) was signed. One between the Foreign Services Institute (FSI) of India and the Diplomacy Academy of Turkey and another on cooperation in the area of information and communication technologies (ICT).