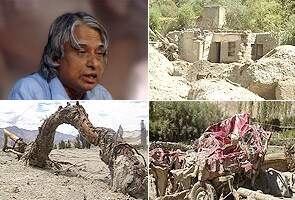 Leh:
A model village, at least that's what former President APJ Abdul Kalam had called it in 2003 on a visit to Saboo village, when he saw its modern facilities comparable to any city.
Today, Saboo is the epicenter of the devastation, that is Leh now, and those facilities are in ruins.
"This village was very beautiful, but now it is been ruined," said Tsring Targias, a resident.
Sixteen people died here on the night of the flashfloods. Four of them were Jigmat's entire family.
"They got stuck under the debris. My mother and sister were found under the debris," said Jigmat Stanzin who lost his entire family.
Tsering Mutup, another resident of this village remembers Kalam's visit clearly. He was a driver in the motorcade.
"We think it will be difficult now that a person like Abdul Kalam will give this village a chance to flourish. It would be nice if someone helps us re-establish," said Tsering Mutup.