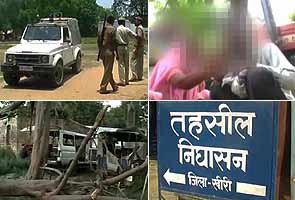 Lucknow:
The Scheduled Caste-Scheduled Tribe commission on Saturday issued notice to the Uttar Pradesh government seeking a detailed report into the alleged rape and murder of a 14-year-old girl in Lakhimpur district of the state.
On Friday, the Crime Branch (CB) of the Uttar Pradesh Criminal Investigation Department (CID) filed the status report on investigation before the Lucknow bench of the Allahabad High Court. The court has fixed July 4 as the next date of hearing.
14-year-old Sonam's body was found hanging inside the Nighasan police station on June 10, sparking protests from opposition parties in the state.
The victim's mother in her complaint had alleged that the girl was raped and murdered after which 11 policemen were placed under suspension.
While local police ruled out murder citing post mortem report, the state government has ordered a CB-CID probe. It has also removed SP Lakhimpur and lodged an FIR against three policemen.
The second post mortem conducted by a panel of expert from Lucknow confirmed that the girl was strangulated, but ruled out rape.
The parents of the girl had submitted an application for a CBI probe into the matter on Friday. UP Chief Minister Mayawati however, has refused to order a CBI probe into the matter. (With PTI inputs)