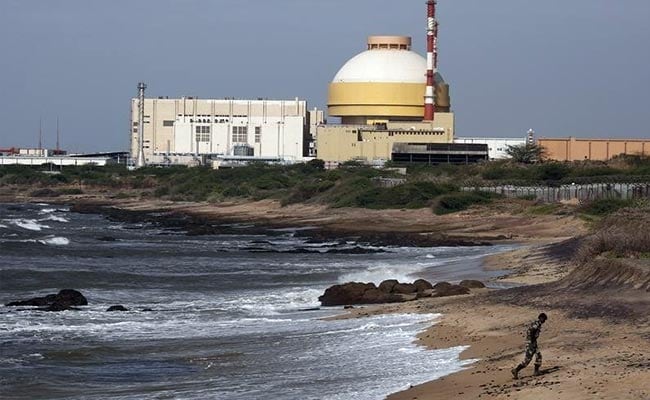 New Delhi:
The power generation capacity of the second 1,000 MW unit at the Kudankulam Nuclear Power Plant (KNPP) is being increased for its further synchronisation with India's national grid, a KNPP source said on Saturday.
"The second unit is currently at the power start-up stage. During this stage, the capacity of Unit 2 will be gradually increased for further synchronisation with the grid," the source told IANS over telephone.
"A unit is usually connected to the grid at 30 per cent capacity level and synchronisation proceeds on the subsequent attainment of 100 per cent capacity level," he said.
"The second unit might be synchronised with the national grid by August-end," the source added.
India's Atomic Energy Regulatory Board this week gave clearance for increasing the power supply from the second unit at KNPP.
Unit 1 of the KNPP being built by Russia's atomic energy corporation Rosatom was dedicated to the nation earlier this month by Prime Minister Narendra Modi, Russian President Vladimir Putin and Tamil Nadu Chief Minister J Jayalalithaa.
Rosatom's Vice-President (Projects) in South Asia Andrey Lebedev had said over the phone earlier this week that "unit 2 is scheduled for synchronisation with the Southern Grid for August 27-28".
The second unit at Kudankulam went critical last month when the stage of physical start-up was completed successfully, and it is expected to be commissioned later this year.
KNPP site director RS Sundar told visiting journalists last week that "Unit 1 has so far generated 10,900 million units of electricity since its synchronisation with the Southern Grid following the reactor's criticality on July 13, 2013."
"We have recently completed 175 days of continuous operation of Unit 1 and its performance is excellent," he added.
On the day of dedicating Unit 1 to the nation on August 10, PM Modi said five more 1,000 MW units would be built at Kudankulam with Russian partnership.
In this connection, Russia has offered India a new range of reactor units -- the VVER-Toi (typical optimised, enhanced information) design -- for the third and fourth units.
An agreement between India and Russia was signed in December 2008 for setting up Kudankulam's units 3 to 6. The ground-breaking ceremony for the construction of units 3 and 4 was performed earlier this year.
Meanwhile, Modi on Saturday reaffirmed India's time-tested ties with Moscow when Russian Deputy Prime Minister Dmitry Rogozin called on him in New Delhi.
"He recalled his recent meeting with President Putin in Tashkent in June and via video-link for dedication of the Kudankulam Nuclear Power Plant Unit 1 at the beginning of this month," a statement issued by the Prime Minister's Office here said.
On his part, Rogozin conveyed Putin's greetings to Modi and briefed him on the progress in ongoing projects between India and Russia, it added.