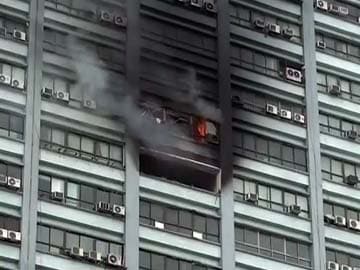 Kolkata:
Seven people including a fireman were injured in a fire in a Kolkata High-rise in the city centre.
Fire had broken out at the 16th floor of Chatterjee International building, one of the tallest buildings in the city.
Police said the fire had started from the office of Birla cements and spread quickly to other offices.
Earlier, the fire department had rescued four persons trapped inside the building. Officials said that very few people had been present in the building as the fire broke out before the office hours.
The fire brigade had been struggling to put out the fire as the smoke remained trapped on the floor in absence of exhausts in the building.
Two of the injured including the fire-man, who had his hand cut by a shard of glass, were taken to hospital.
The building is situated on the busy Chowringhee road, which is one of the arterial roads in Kolkata.
The area has been cordoned off to conduct the firefighting operations in the busy area. The fire department has closed the building for the day and has asked office workers not to enter the building as a precaution.
The 24-floor-high Chatterjee International is the fifth tallest building in Kolkata.
The cause of fire or extent of damage was yet to be ascertained, police said.
Get Breaking news, live coverage, and Latest News from India and around the world on NDTV.com. Catch all the Live TV action on NDTV 24x7 and NDTV India. Like us on Facebook or follow us on Twitter and Instagram for latest news and live news updates.