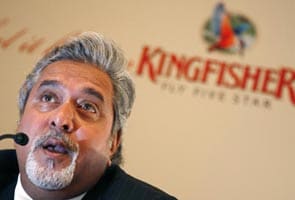 New Delhi:
Kingfisher Airlines, owned by liquor baron Vijay Mallya, has decided to end its international flights. The airline, which has a debt of 7000 crores, has committed today to running 125 domestic flights everyday using 20 aircraft. Its fleet number was 64 till a few months ago. Mr Mallya has promised, that unlike in the last few months, these flights will not be cancelled at the last minute because of the airline's expansive financial problems.
Mr Mallya had been summoned to meet the Directorate General of Civil Aviation (DGCA) today to explain recovery plans. Earlier, Civil Aviation Minister Ajit Singh warned that Kingfisher could lose its license if it was not able to furnish a believable turnaround strategy, or if the DGCA found safety being compromised. DGCA chief Bharat Bhushan told NDTV today that a special team conducts safety checks on Kingfisher flights every day to ensure passengers are not at risk.
"The problem is, last two-three months, he has given several plans and he has not adhered to any of them," Mr Singh said. "If passenger safety is compromised, we'll not let any airline fly. Safety norms also involve financial viability," he added. After the meeting with Mr Mallya, the DGCA chief said he had no plans for now to revoke Kingfisher's license.
Mr Mallya said that operating international flights does not make sense given that it has been suspended by IATA which helps airlines by serving as the middlemen between them and various service providers like caterers and ground handlers for passengers and baggage at different airports. Without IATA, Kingfisher would have to handle these payments directly in different currencies - a logistical nightmare. Mr Mallya said that he is not setting an ambitious target for the summer, and said he is hopeful of foreign investment. The government is considering a proposal to allow foreign airlines to own upto 49% of Indian carriers.
Kingfisher employees including pilots have not been paid for several months. Recently, the airline has blamed this on the income tax department which has frozen several of its accounts. Today, Mr Mallya said he hopes to clear all outstanding bills soon for employees.