Highlights
Karunanidhi and Jayalalithaa are towering figures in Tamil Nadu politics
DMK produced a rough sketch of the burial site plan
AIADMK's rejection of DMK's request was overruled by High Court
Chennai:
DMK leader M Karunanidhi, who died on Tuesday after a long illness, was this evening buried at Chennai's Marina Beach, where three other former chief ministers including J Jayalalithaa have memorials. Karunanidhi was given a state funeral, which included a 21 gun salute.
As his casket was lowered into the ground, thousands present there chanted: "He lives, he continues to live. Our beloved man. He can never die."
On Karunanidhi's casket, was written, "A person who continued to work without rest, now takes rest".

Karunanidhi's burial site, according to a rough plan the DMK presented in court, is between his mentor CN Annadurai and Ms Jayalalithaa - who was his biggest rival.

The ruling AIADMK's decision to reject a burial site for Karunanidhi at Marina Beach was overruled by the Madras High Court today after dramatic arguments between Tamil Nadu's two main political parties.

The court also said Karunanidhi would be buried "in consonance" with the rough sketch provided by the DMK's RS Bharathi.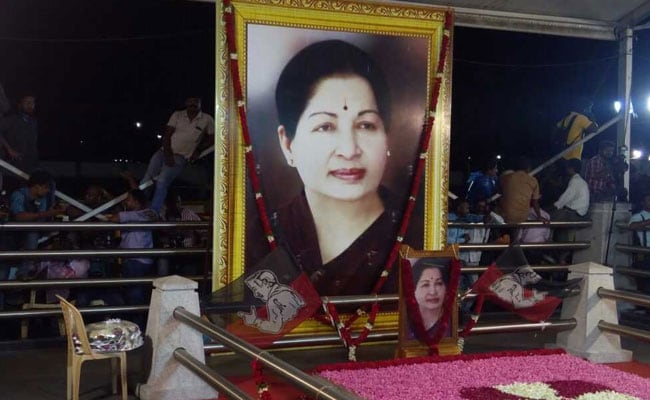 Karunanidhi, a colossus in Tamil Nadu's politics for six decades, along with arch-rivals MG Ramachandran and his protege Jayalalithaa, died in hospital on Tuesday.

The Tamil Nadu government's refusal to give Karunanidhi, popularly known as "Kalaignar" or artiste, space at the iconic spot was criticised by many in the state and beyond.

The government offered a two-acre plot near Gandhi Mandapam, the memorial dedicated to Mahatma Gandhi. "That cannot be termed as a decent burial. Those buried there have ideologies different from the Dravidian movement," the DMK argued in court.
To begin with, the only two Tamil Nadu chief ministers to have memorials at Marina Beach were Chief Ministers CN Annadurai, who founded the DMK and MG Ramachandran, who launched the AIADMK.

When Jayalalithaa died as chief minister in 2016, her AIADMK skirted a ban on construction within 500 metres from the waterfront to enable a memorial for her near that of her mentor MG Ramachandran.