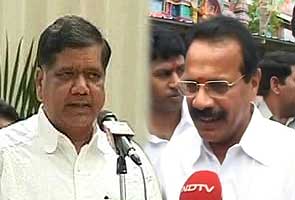 Bangalore:
Karnataka is all set for leadership change as sources say Chief Minister Sadananda Gowda is expected to submit his resignation to party president Nitin Gadkari today. The BJP top leadership seems to have finally given in to BS Yeddyurappa's pressure tactics. Minister for Rural Development, Jagadish Shettar, who has the backing of Mr Yeddyurappa, will be chosen as legislature party leader. Mr Gowda met Mr Gadkari at his residence this morning; a decision will be announced at a joint press conference today.
Mr Gowda, who was made the chief minister last year after pressure from Mr Yeddyurappa, is on his way out, again courtesy Mr Yeddyurappa.
Last evening, Mr Gowda had detailed discussions with senior BJP leaders including LK Advani. Before leaving for the capital, he visited a Ganesh temple in Bangalore and then told NDTV that he was ready for whatever his party asked him to do. "I am going to Delhi, and party leaders will decide. I am ready to quit if my party high command tells me to," he had said. The famous smile had dimmed, but not entirely faded.
Seemingly unperturbed by the decision to remove him, the 59-year-old chief minister said he extend all cooperation to his "good friend" Shettar.
"Shettar is very good friend of mine. He is more senior and more experienced. I will always give him full cooperation to him and if I want to give any suggestion for the betterment (of administration), I will personally visit him and give my suggestions," he told reporters.
Party spokesperson Ravi Shankar Prasad evaded a direct answer on Karnataka saying there would be a decision soon, but sources say the decision that Mr Gowda would step down was taken at a BJP core group meeting held earlier on Saturday in Delhi at Mr Gadkari's house. The party's Parliamentary board, the highest decision-making body, is expected to meet this evening to ratify the core group's decision to make Mr Shettar the new Chief Minister of Karnataka. Karnataka's MLAs are expected to meet on Monday.
Sources said Mr Shettar is likely to be sworn in before July 16, when the Monsoon Session of the Karnataka Assembly begins. Mr Jaitley and another senior leader Rajnath Singh will travel to Bangalore as observers for the transition process by July 10. Plans are now being put in place for an honourable exit for Mr Gowda who has been extremely dignified in the face of months of rebellion and being publically run down by Mr Yeddyurappa's camp. There has been talk about posting him as the state BJP president, but Mr Yeddyurappa is said to be pushing for him to be relocated to Delhi with a Rajya Sabha seat.
"I have no ambitions. I will not demand any position. I would like to remain as an ordinary worker. Party gave me everything. Party gave me Chief Minister's post which I did not demand," Mr Gowda said yesterday after being asked whether he would become the state party president.
56-year-old Jagadish Shettar belongs to the powerful Lingayat community, as does Mr Yeddyurappa, who is the architect of the rebellion that has led to Mr Gowda's expected ouster. Sources say the BJP, which had held out for a long while, refusing to give in to Camp Yeddyurappa's demands and repeated brinkmanship, now has political imperatives. With elections due in Karnataka in less than a year, sources said, party leaders are trying to balance demands and interests of not just warring groups within the party, but also castes and communities that voted for it and gave it its first state ever in south India in the last assembly elections.
That election was won for the party by BS Yeddyurappa, and the party aims at appeasing his all-powerful Lingayat community by making Mr Shettar CM. But Mr Gowda is a Vokkaliga, another powerful community and Vokkaliga leaders met in Bangalore on Saturday to chalk out their strategy. There could also be trouble for the BJP from MLAs in Dharwad, who are pledging their support to Mr Gowda. So in other caste-related calculations now being made, sources said, R Ashok who is currently the Home Minister and who is a Vokkaliga, and state party president KS Eeshwarappa, who belongs to the Kuruba community, are expected to be given key positions.
Mr Yeddyurappa had to step down as Chief Minister last year after being indicted by the Lokayukta or state ombudsman in illegal mining cases. He stepped down reluctantly, insisting on nominating his successor. He chose Mr Gowda, his protege. But the two soon fell out - Mr Yeddyurappa clearly saw this as a holding operation till he cleared his name and came back to claim the CM's post. Mr Gowda was clear he would complete his term. Early this year, after a CBI investigation was ordered against him in corruption cases, Mr Yeddyurappa changed tack - his demand now became that a Lingayat leader be made Chief Minister.
Mr Shettar was himself daggers drawn with Mr Yeddyurappa not long ago. But they have patched up since, finding common ground in an oust-Gowda campaign. Mr Yeddyurappa, who has proved to the party repeatedly that he is the most powerful BJP man in the state, claims to command the support of more than half the BJP's MLAs in Karnataka. Nine Karnataka ministers loyal to Mr Yeddyurappa handed resignations last week to Mr Gowda and only withdrew them when the BJP leadership in Delhi assured them that their demand for a change in leadership in the state would be looked into.
The BJP wanted to delay the change till after the elections for the President of India are held on July 19. Their candidate is PA Sangma; he is taking on the UPA's Pranab Mukherjee. But an unhappy Mr Yeddyurappa could have meant a large section of the party's legislators from Karnataka would be tempted to vote against their own candidate in a show of defiance and strength.