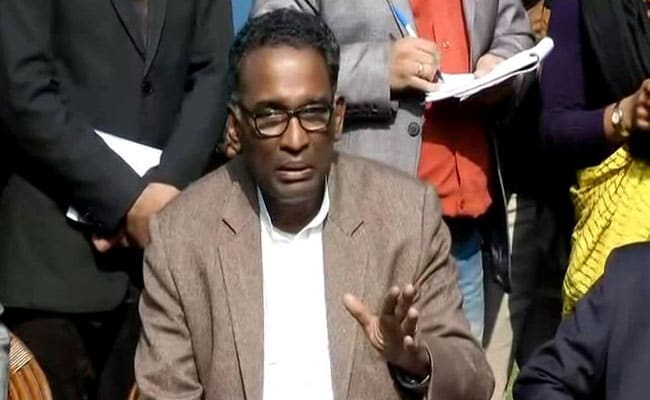 New Delhi:
Justice Jasti Chelameswar, the senior most judge of the Supreme Court, today shared dais with Chief Justice of India Dipak Misra on his last working day.
Justice Chelameswar, who retires on June 22, sat in a bench headed by the Chief Justice along with Justice D Y Chandrachud as today was the last working day before the apex court goes for the long summer vacation.
It is the custom in the top court that a retiring judge, on his last day, is given the honour of sitting with the CJI in the majestic court number 1.
Justice Chelameswar was the one to make public the concerns over rostering by the Chief Justice of India. Three other most senior judges of the top court -- Ranjan Gogoi, Madan Lokur and Kurian Joseph -- joined him in the unprecedented press conference on January 12.
The judge ended the speculation among the legal circles that he would not be a part of the bench. The speculation had gained momentum after he had refused the invite of the Supreme Court Bar Association which was preparing a farewell function for him.
A large number of people, besides lawyers and litigants, thronged the court room on Friday morning. There was no mentioning in the court number 1, which is usually flooded with cases and where 11 matters were listed for today.
The bench sat for a brief period and rose for the day at 11:15 AM.
Senior Advocate Rajiv Dutta, advocates Prashant Bhushan and Gopal Sankaranarayanan gave short farewell speeches to Justice Chelameswar.
Mr Bhushan thanked Justice Chelameswar for "upholding democracy" and said,"On behalf of the Bar, I would like to say that it was an honour to have appeared before you. Future generations will remember your contribution to democracy and to the country."
Mr Dutta thanked the judge for "upholding the ideals of the institution", while Mr Sankaranarayanan expressed his gratitude towards him for the grace he has shown towards junior members of the Bar and said this would always be remembered and appreciated.
Justice Chelameswar left the courtroom with folded hands.
He had earlier declined an invitation from the SCBA for his farewell function citing personal reasons.
The judge also told the members of the bar that he had not accepted a farewell earlier when he was moving out of the Andhra Pradesh High Court to another high court.