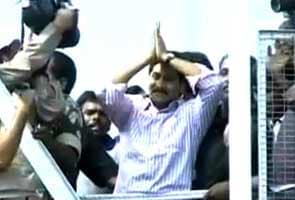 Nizamabad district, Andhra Pradesh:
Thanks to his pro-united Andhra Pradesh stance, Jagan Mohan Reddy has always been not welcome in Telangana. In May 2010, when he tried to visit Warangal district, there were violent protests and Mr Reddy had to be escorted away by the police. Mr Reddy was then on a state-wide tour of Andhra Pradesh to visit families who were shaken by the death of his father YSR Reddy in a helicopter crash. Mr Reddy's support for a united Andhra Pradesh provoked an angry response from Telangana, which continues to demand statehood.
Today, the protests against Mr Reddy were relatively minor. The MP from Kadapa has begun a 48-hour fast in the Nizamabad district to focus on the plight of farmers in Andhra Pradesh. Just in the two months of October and November, 157 farmers have committed suicide, a significant number of them from Telangana region.
Mr Reddy did not slip in unnoticed. He arrived in a convoy of more than 100 cars. A few stones were thrown and some pro-Telangana slogans were shouted, but the overall calm has led to speculation that there's been some match-fixing between Mr Reddy and parties like the TRS which have led the demand for a separate state. The Congress, which Mr Reddy quit last year, and Chandrababu Naidu's TDP both claim that while the TRS violently protested Naidu's visit to Warangal last week, they put up only a facade of resistance to Jagan, even though TRS looks at both leaders as anti-Telangana.
Mr Reddy dismisses the allegations. He says his fast is apolitical, particularly because he is not contesting in the bypolls in Telangana region due soon.