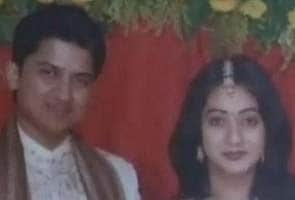 New Delhi:
For the first time since Indian dentist Savita Halappanavar died in Ireland last month after being denied an abortion, officials of the Ministry of External Affairs (MEA) have contacted her husband Praveen Halappanavar, sources have told NDTV.
A senior official of MEA conveyed the government's condolences to Mr Halappanavar and briefed him of the details of discussions in Dublin and New Delhi between Indian and Irish officials, sources said. Last evening, Indian Ambassador to Ireland Debashish Chakravarti had met Deputy Prime Minister and Foreign Minister Eamon Gilmore to convey the deep "concern" of Indian government at the tragic death of Mrs Halappanavar.
Mr Halappanavar was also assured that the External Affairs Minister Salman Khurshid was closely following developments in the case and the Indian Mission in the Dublin had been directed by him to continue to regularly keep Mr Halappanavar abreast of developments and provide all necessary assistance, the sources added.
Meanwhile, about 10,000 people marched through Dublin and observed a minute's silence on Saturday in memory of Mrs Halappanavar.
Marchers, many of them mothers and daughters walking side by side, chanted "Never again!" and held pictures of Savita Halappanavar as they paraded across the city to stage a nighttime candlelit vigil outside the office of Prime Minister Enda Kenny.
The Irish Prime Minister had yesterday said he is awaiting a report by an expert group on the issue but will not be rushed into an immediate decision on right to abortion. Mr Kenny said his government would go through the report and indicated it will take its own time in arriving at a decision.
Savita Halappanavar, 31, died in Ireland due to blood poisoning after doctors allegedly refused to terminate her 17-week pregnancy, telling her that it was a Catholic country.
Doctors refused her requests to remove the fetus until its heartbeat stopped four days after her hospitalization. Hours later she became critically ill and her organs began to fail. She died three days later from blood poisoning. Her widower and activists say she could have survived, and the spread of infection been stopped, had the fetus been removed sooner.
The case illustrates a 20-year-old confusion in abortion law in Ireland, where the practice is outlawed in the constitution. A 1992 Supreme Court ruling decreed that abortions should be legal to save the life of the woman, including if she makes credible threats to commit suicide if denied one. But successive governments have refused to pass legislation spelling out the rules governing that general principle, leaving the decision up to individual doctors in an environment of secrecy.
(
With inputs from Associated Press
)