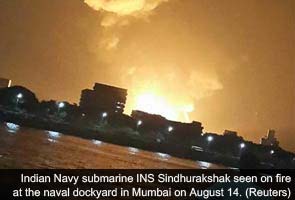 Moscow:
Russian naval engineers will help the Indian Navy in its investigation into the explosion on INS Sindhurakshak, the submarine which sank at the naval dockyard in Mumbai on Wednesday, Russian Deputy Prime Minister Dmitry Rogozin has said.
The 16-year-old vessel, which had suffered an accident in 2010, had recently returned from Russia after a two-and-a-half year upgrade of its electronic warfare and integrated weapons control systems.
Mr Rogozin told Russian news agency Ria Novosti that Russian specialists do not see any technical failure as the likely cause behind the explosion.
Mr Rogozin, who looks after the defence industry, also added that he has instructed the United Shipbuilding Corporation, a state-owned ship building company, to provide all necessary assistance to India.
"I have instructed the United Shipbuilding Corporation to send more specialists in agreement with the Indian side, to take part in the investigation of the tragedy and to provide all assistance necessary to our Indian friends," he said.
There were 18 crewmen on board INS Sindhurakshak when it sank at the naval dockyard in Mumbai on Wednesday after an explosion. The Indian Navy said yesterday that the bodies of five sailors have been found, but cautioned that it does not expect divers battling zero visibility in the dark muddied waters inside the sunken submarine to locate any of the others.