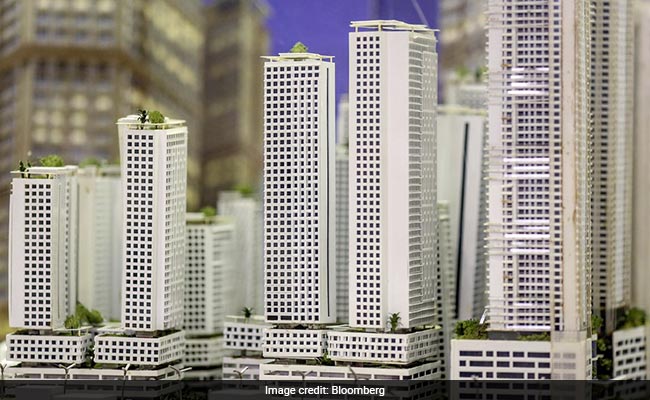 Indian billionaire Ajay Piramal wants to sell mortgages and build affordable homes as the drugs-to-data conglomerate seeks to ride an estimated $1.3 trillion housing-investment boom.

Prime Minister Narendra Modi's government is putting a "huge emphasis" on affordable housing to drive job creation and economic growth, said Piramal, chairman of Piramal Enterprises Ltd, in an interview. "We'll ride this wave," he said, pointing to the company's ties with developers across cities and its deep pockets.

Closely-held Piramal Realty Pvt Ltd. is considering affordable housing projects, while the listed Piramal Enterprises is awaiting a license to offer loans to home buyers, he said. Rising incomes and a government push to house the nation's billion-plus people will require 60 million new homes by 2024 and unleash investments of as much as $1.3 trillion over the next seven years, according to estimates by CLSA India Pvt.

"We are looking at humongous growth in the housing finance segment," said Jignesh Shial, a Mumbai-based analyst with Quant Broking Pvt Ltd. "This market in India is far from its saturation point."

Piramal isn't alone in spotting the opportunity with the government offering a slew of incentives to achieve its goal of housing for all. These have included interest subsidies for home loans and making developers of affordable housing eligible for state incentives, tax benefits and institutional funding.

More than 16 mortgage financiers started operating in the country in the two years to June, taking the total to 75, according to data compiled by the National Housing Bank. The sector is dominated by Housing Development Finance Corp., the largest mortgage lender by assets, with outstanding loans of nearly 3 trillion rupees ($46 billion) as of March 31.

Still, mortgage penetration in the South Asian nation stands at 9 percent of nominal gross domestic product, compared with 32 percent in Malaysia, 56 percent in Singapore and 68 percent in the U.S., according to an HDFC presentation.

Larger Canvas

There are probably about seven or eight companies with a book in excess of 100 billion rupees, Piramal said. "There is a space for a company willing to play a larger canvas and, because of the funding we have and our track record, we should be able to come in that space."

The mortgage push is part of Piramal's efforts to capitalize on a "once-in-a-lifetime opportunity" to build up the financial services business as Indian lenders, battling the world's worst stressed-asset ratio, become cautious at a time rapid economic growth.

"So much of the capital is tied up with these non-performing assets that it's difficult for banks to lend as much," he said. This has "left an open space" for non-banking finance companies.

The contribution of financial services to Piramal Enterprises's revenues has nearly quadrupled to 39.2 percent in the year ended March 2017 from 10.6 percent in 2013, data compiled by Bloomberg show. It grew its loan book 87 percent to 244 billion rupees in the year ended March from a year earlier.

The arm is lending aggressively as well as looking to snap up distressed assets offloaded by banks through a special fund set up with Bain Capital Credit, Piramal said.


Investors seem to like his plans. Piramal Enterprises shares have advanced 47 percent this quarter, beating the benchmark S&P BSE Sensex's 3.4 percent climb. It is the best-performing stock since March 31 among India's 200 biggest companies.
Piramal talked on issues ranging from how lenders are dealing with their soured loans to a merger with the Shriram group. Edited excerpts from the interview:
Are banks more willing to negotiate on bad loans?
The estimates for bad loans in the system is anywhere between $100 billion to $200 billion and if it's not tackled quickly, then the economy cannot grow. The bankruptcy act and this new ordinance are two very important steps in resolving this.
Banks have now come on the table to take haircuts, but whether they will be able to take it to the full extent that is necessary from our point of view, I haven't yet seen that.
What assets is the fund with Bain Capital examining?
We expect the initial fund raising to be in the range of $750 million to $1 billion. It's too early now to seek other investors. Our idea is to do a few proof of concept investments first. The team is looking at pharmaceuticals, health care and some of the infrastructure segments where the bad debts are large.
Do you plan to merge with the Shriram group?
It's the golden period for NBFCs for the next two years. And because it's the golden period, both the Piramal and Shriram entities have enough opportunities. The Shriram group is catering more to the retail segment, while Piramal's lending is more wholesale. So there are synergies.
But there is a challenge also if one looks at doing any integration today. In any integration, the first two years will be lost in just trying to bring them together, especially when you have such a large number of employees and different cultures. It'll mean a lot of distraction for both the Piramal and Shriram teams and I don't want to do that.
(This story has not been edited by NDTV staff and is auto-generated from a syndicated feed.)