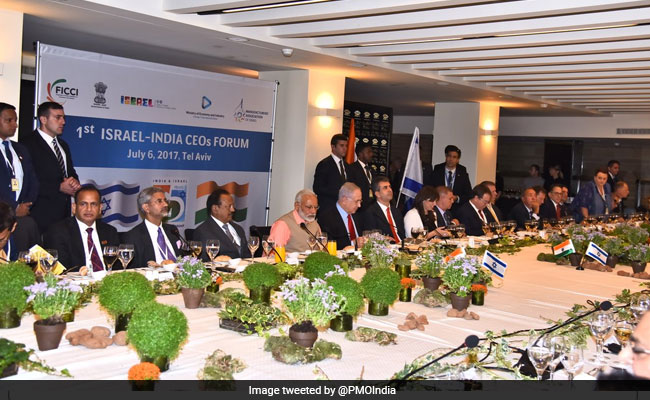 Tel Aviv:
As Prime Minister Narendra Modi winds up his trip to Israel, the first meeting of the India-Israel CEOs Forum in Tel Aviv signed 12 Strategic Business MoUs worth over US$ 4.3 billion.
The deals included sectors like defence, homeland security, Agriculture, Irrigation & Water treatment, Urban infrastructure and transport (including high speed railways and metro),Pharma and life-sciences, Digital technologies, IT & ITES, and Start-ups.
There were 18 Indian and 14 Israeli CEOs, including two big defence guns - General Yoav Har- Even of the RAFAEL Advanced Defense Systems and Joseph Weiss of Israel Aerospace Industries.
The Indian side was led by Pankaj R. Patel of Zydus Cadila.
The CEOs Forum met PM Modi and the Israeli PM Benjamin Netanyahu and submitted a report on what needs to be done for developing future course of economic engagements.
The India-Israel StartUp Bridge was launched to encourage StartUps of the two countries to work together to come up with innovative solutions to tackle challenges in the Agriculture, Water and Healthcare sectors.
This year, India and Israel are marking 25 years of their diplomatic relations.