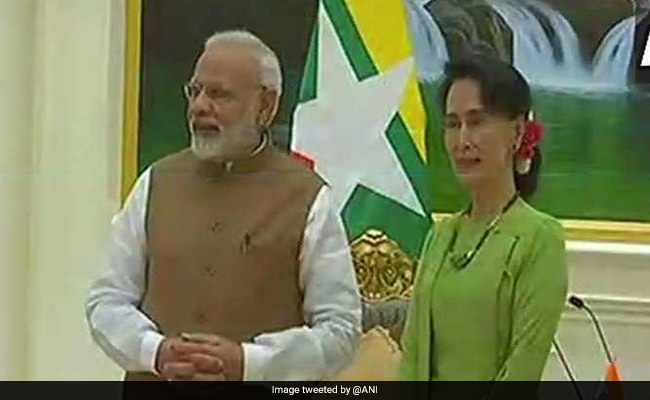 Nay Pyi Taw:
Prime Minister Narendra Modi today announced that India will grant gratis visa to Myanmarese citizens wanting to visit the country. PM Modi made the announcement during his joint press statement with State Counsellor Aung San Suu Kyi after the two leaders held wide-ranging talks.
"I am pleased to announce that we have decided to grant gratis (no-cost) visa to all the citizens of Myanmar who want to visit India," Prime Minister Modi said. He also announced that India has decided to release 40 Myanmarese citizens, currently lodged in various jails in India.
"We hope that they will soon be able to meet their families in Myanmar," the prime minister said. PM Modi also asserted that India stands by Myanmar amid the challenges the country is facing.
Gratis visa is generally granted to those travelling to the country on invitation of the government as its guest. It is also granted to diplomats and UN officials traveling on duty. Those granted scholarship under cultural exchange programmes are also granted gratis visa.
"I am confident that in future we will work together to create a strong and close partnership for mutual benefits," the prime minister said.
Earlier, during the delegation-level talks, PM Modi said, "We would like to contribute to Myanmar's development efforts as part of our 's
abka saath sabka vikaas
' initiative."
He said deepening the relationship with Myanmar was a priority for India, as a neighbour and also in the context of the 'Act East Policy'.
Currently, the government issues gratis visas to nationals of Afghanistan, Bangladesh, North Korea, Jamaica, Maldives, Mauritius and South Africa, among others, as per the Ministry of External Affairs.