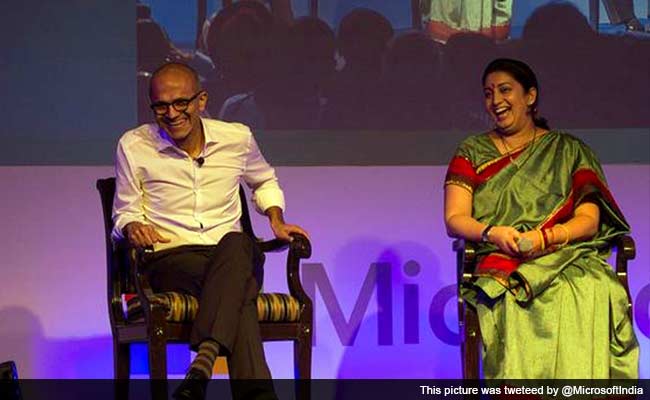 New Delhi:
Microsoft CEO Satya Nadella quoted Mahatma Gandhi to tell students today, "Live everyday as if it is your last day but learn as if you are going to live forever."
He also said that, "In the long run, EQ (emotional quotient) trumps IQ 9 (intelligence quotient). Without being a source of energy for others very little can be accomplished."
Hyderabad-born Mr Nadella is on his first visit to India since he took over as CEO of the technology giant earlier this year. He addressed students along with Human Resource Development Minister Smriti Irani at an event that was streamed across 20 states, 300 cities and 750 locations. (Read also:
Live Updates - Microsoft CEO Satya Nadella and Union Minister Smriti Irani Speak to Students at Talent India 2014
)
The 47-year-old CEO told his young audience that the opportunity before them as they prep to change the world "is unparalleled."
"All of you represent a multi-disciplinary approach to innovation - and that will change the future," he said.
Ms Irani, noting that Mr Nadella was a hard act to follow, said she would add GQ or governance quotient to EQ and IQ that the Microsoft chief spoke about. The government she said was making available "open resources to all students from economically challenged backgrounds." (Read also:
Highlights of Satya Nadella's Speech to Students
)
It was the youth, she said, that had given the new government a big mandate.
"There are some who mock us at times for being overly dependent on social media, on information technology dreams, but we have seen the benefits of that. The Army in Jammu and Kashmir through social media managed to provide support to 12000 people. That is how technology can help us," she said.
Satya Nadella lives and works in the US. He did his schooling and engineering in India, before heading to the US for a Master's degree. He joined Microsoft in 1992.