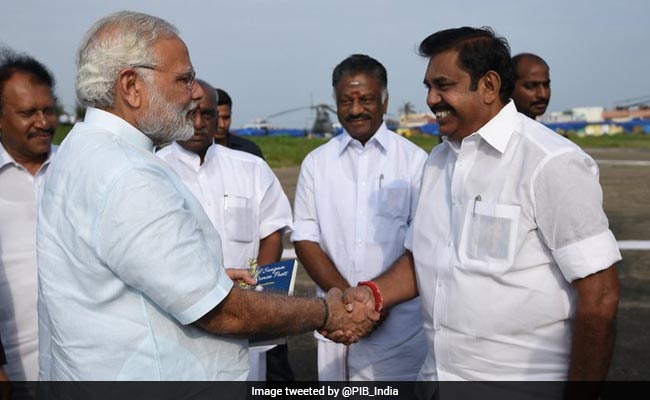 Chennai:
The AIADMK in Tamil Nadu has announced it would continue its alliance with the BJP for the 2024 Lok Sabha polls, amid much tension with the ally. The declaration, however, came with a rider. "The AIADMK will head the NDA in Tamil Nadu, BJP and others should come under us," said senior party leader D Jayakumar.
The bad blood between the AIADMK and the BJP had spiked after a number of BJP men, including its IT wing chief CRT Nirmal Kumar, recently crossed over to the AIADMK. Alleging that the AIADMK has been violating "coalition dharma", a number of BJP men in Tuticorin had burnt the effigy of AIADMK chief E Palaniswami.
In the AIADMK camp, BJP chief K Annamalai's recent comment comparing himself with party icon and former Chief Minister J Jayalalithaa, had touched a raw nerve.
Denying it is poaching cadre from BJP, the AIADMK said political leaders changing camp is normal and cited how in the past, several of its senior leaders including former Minister Nainar Nagendran, had joined the BJP.
"These minor issues will be settled," Mr Jayakumar said.
BJP state chief Mr Annamalai, too, said the issue will not impact alliance.
The trouble between the AIADMK and the BJP started after the latter, which just has four MLAs in the 234-member house, projected itself as the key opposition, as tussle raged in the AIADMK camp between E Palaniswami and O Panneerselvam for the control of the party.
There are other issues involved as well. Since the 2019 Lok Sabha polls, the AIADMK has lost three elections while contesting in alliance with the BJP. In the recent by-poll the alliance lost, the parties did not even campaign together.
Many in the AIADMK said the BJP is now more of a liability.
AIADMK leaders complain that while it has put the national party in the state's map, the BJP is yet to reciprocate nationally. Despite its negligible presence in state, the party is just aggressively attempting to expand its footprint, they say.
Mr Palaniswami, who has emerged stronger as a singular leader of the party after expelling rival O Pannerselvam, has now gently put the BJP in its place, they say.