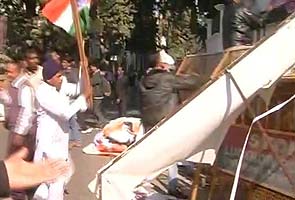 Lucknow:
Nearly 18 lakh government employees in Uttar Pradesh are on strike in protest against the efforts in parliament to introduce a new law that would reserve promotions in government jobs for dalits and tribals.
The Rajya Sabha will vote on the proposal at 5 pm, notwithstanding aggressive opposition from Mulayam Singh Yadav's Samajwadi Party, which is in power in Uttar Pradesh.
Like last week, his MPs in the Upper House today tried to disrupt proceedings to block this evening's vote. The Samajwadi Party's votebank of backward castes and muslims is not in favour of the proposal.
In Lucknow, state government employees pulled down posters of Congress president Sonia Gandhi from her party's office.
Mr Yadav is isolated in his opposition to the new bill. The main opposition party, the BJP, has agreed to back the proposal after the government agreed to an amendment it suggested.
The main advocate for the bill is Mr Yadav's political rival, Mayawati, who lost the UP election earlier this year to his party.