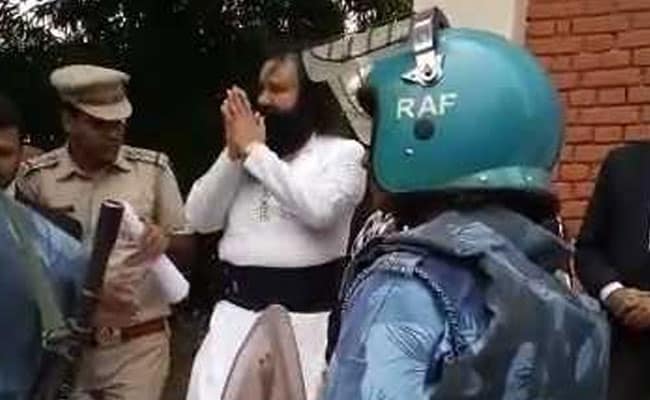 Highlights
Ram Rahim sentenced to 20 years in jail, 10 years each in two rape cases
He has been tasked to grow vegetables as part of his chores in prison
He makes Rs. 20 for day's work in jail, the rate for unskilled labour
ROHTAK:
Gurmeet Ram Rahim Singh,
the flamboyant chief of the Dera Sacha Sauda sect who built an
empire worth thousands of crores
, is growing vegetables in jail. He is being paid Rs 20 a day, a top Haryana prison official has said. Dubbed the guru of bling for his penchant for ornate clothes and jewellery,
Ram Rahim was reported to have continuously wept
and refused to eat solid food.
Sentenced to 20 years in jail,
10 years each in two rape cases, the inmate at the Sunaria jail in Haryana's Rohtak is learnt to have settled down.
Outside his barrack, there is a small plot of vacant land measuring about 900 sq yards. "He has been tasked to grow vegetables in this land," said KP Singh, director general of Haryana prisons department said.
Officials said convicts have to be assigned some work depending on their skills.
The prison authorities had no use for the self-styled spiritual guru's skills that helped him build a sprawling 800-acre campus that makes up for the Dera headquarters 200 km away, complete with a 7-star hotel and
replicas of Eiffel Tower, Taj Mahal and Disney Palace
. He will get a daily wage of Rs 20 for each day of work, the rate for unskilled labour.
Also, it would have been a little too risky to expose him to a large number of prisoners.
For now, Mr Singh said
Ram Rahim
was preparing the plot for sowing the vegetables next week. In addition, he will also have to tend to a few trees and keep him in good shape.
The state's top jail official denied reports that Ram Rahim had asked to speak to Honeypreet Insaan, who he called his adopted daughter. An inmate can give a maximum of two phone numbers who he can call. These phone numbers are verified by the police and can make a phone call only after this process is complete.
But Ram Rahim did get two books and two pairs of slippers, he said, a sharp contrast to the hundreds of pairs of shoes, designer clothing and caps that were found in the search of the Dera Sacha Sauda's residence carried out on the high court's orders.
The sanitisation process
also led to unearthing of two secret tunnels, including one that connected the Dera Sacha Sauda chief's residence with the hostel for female disciples, and an illegal firecracker factory.
The Dera Sacha Sauda that he led
describes itself as a social welfare and spiritual organisation. It was set up in 1948 and Ram Rahim took over as its chief in 1990.
He was convicted of raping two women followers last month
. In 2015, he was accused of encouraging 400 followers to undergo castration at his ashram so they could get closer to god. He also stood trial for conspiracy over the murder of a journalist in 2002.