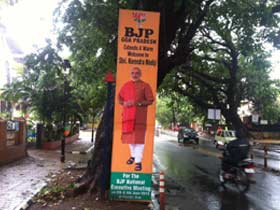 Panaji:
Even before Narendra Modi was announced as the BJP poll campaign committee chairman, there was one count in which the Gujarat Chief Minister was already unequivocally ahead of other top party leaders.
Along the picturesque 32-km drive from the Dabolim airport to the Marriott resort in north Goa where the BJP is holding its two-day conclave, there are 53 Narendra Modi posters up, according to local media reports. BJP chief Rajnath Singh is a distinct second with 25, they say.
(Track live updates from the BJP conclave here)
And it is just as well that party patriarch LK Advani did not drive down this road. He would have spotted but 10 posters with his likeness on them. Mr Advani has called in sick and is not attending the Goa meet, reportedly angry that Mr Modi was being considered for promotion as the head of the BJP's election strategy committee.
Host chief minister Manohar Parrikar too features on 10 posters. Sushma Swaraj has eight and Madhya Pradesh Chief Minister Shivraj Singh Chouhan and Arun Jaitley figure on five each.