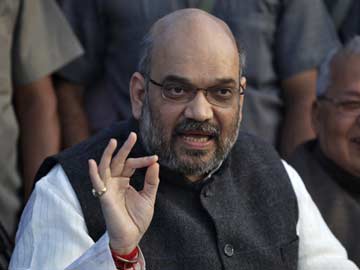 Mumbai:
BJP President Amit Shah met Uddhav Thackeray, chief of the party's long-time ally Shiv Sena, at the latter's residence in Mumbai on Thursday night.
Mr Shah made a last-minute change of plan to accommodate Mr Thackeray in his Mumbai itinerary today. All it took was a phone call to break the ice.
Early on Monday morning, Mr Thackeray called up Mr Shah, who is visiting the city for the first time since taking charge of the BJP, and invited him home. Though details about the meeting are unclear, it is the first step towards mending ties ahead of Maharashtra polls, expected to be held next month.
Ideally, this should have been an opportunity for the ruling BJP and its oldest ally to join hands in a show of strength before the assembly elections. Instead, Mr Shah's first visit to Mumbai as party chief seemed to have set the allies on an unprecedented collision course.
It started with Mr Shah apparently finding no time to spare to meet the Sena chief and Mr Thackeray responding to the apparent snub by holding a press conference on Thursday noon, ostensibly on the party's 'Vision Document', hours after the BJP President reached Mumbai.
But at Mr Thackeray shied away from directly targeting the BJP at the press meet.
"I don't want to say anything on this. I want to work for the betterment of Maharashtra. Politics will keep going on. As it moves ahead, we will see," he said.
The allies have been squabbling over seat-sharing for the assembly elections.
Buoyed by their massive victory in the national election in May, the BJP has been demanding more seats, but the Sena has warned its ally against complacence after the less-than-favourable results in last month's assembly by-polls.
The political tug-of-war has been intense as the Chief Minister's post is traditionally offered to the alliance party that wins more seats.