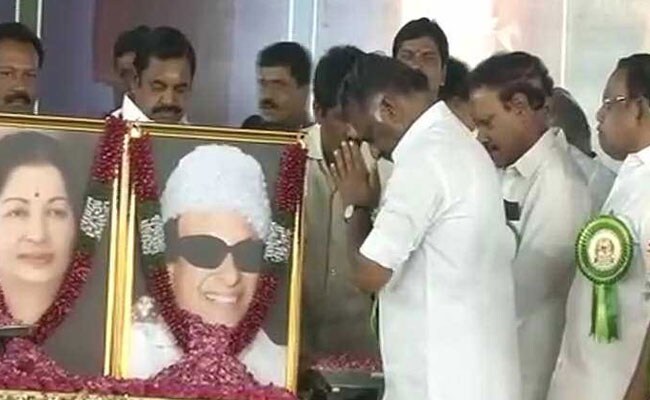 Chennai:
After a merger that took hard negotiations and several months to arrive at, Tamil Nadu Chief Minister E Palaniswami or EPS and his new deputy O Paneerselvam or OPS, shared stage today exchanging warm words and appealing for unity in the AIADMK in name of Amma or J Jayalalithaa, the party's powerful chief who died in December last year. It was the first time that they made a public appearance since they shook hands and announced on Monday that their factions were re-uniting.
"It is joyful to share the dais with OPS after a period of separation," said the Chief Minister, who was a minister seven months ago in the cabinet of O Pannerselvam, then Chief Minister. OPS declared that the Chief Minister and he "are sons of same mother. We should make any sacrifice to safeguard Amma's legacy".
The call for unity -- at a function to celebrate the birth centenary of party founder MG Ramachandran -- came amid a rebellion by 19 legislators of the AIADMK who have demanded that Mr Palaniswami must quit. They accuse him of betrayal for moving to expel party chief VK Sasikala and her nephew and deputy TTV Dhinakaran as part of his merger agreement with O Panneerselvam. If EPS has to face a trust vote - already suggested by opposition leader MK Stalin of the DMK - he could be in trouble.
The united AIADMK has 134 legislators in the 234-member house - just 16 more than the 118 needed for majority. A rebellion by 19 Sasikala supporters will take Mr Palaniswami's numbers well below the half-way mark.
The rebels have already met Governor C Vidyasagar Rao, demanding that the Chief Minister step down. Else they would vote against the government, they have threatened. The opposition DMK has already demanded that EPS face a trust vote in the assembly. All 19 rebels are currently tucked away at a luxury resort in Puducherry so they can't be lured back to the Chief Minister's side.
Mr Panneerselvam, though, declared today that the government is safe. A couple of tweets from him this morning read, "No one has the power to topple this government," and the "AIADMK government will stand rigid for years".