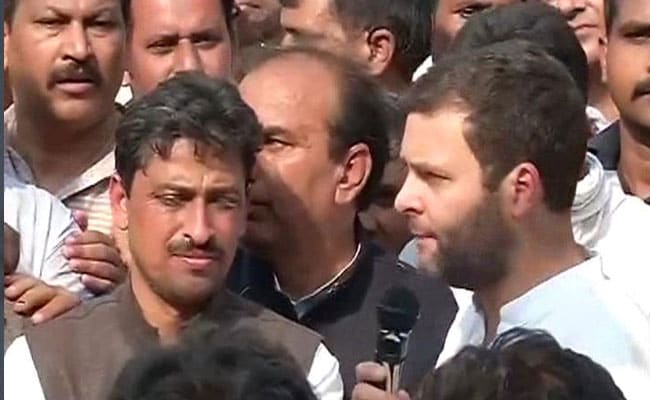 Highlights
Imran Masood will be one of the four party Vice-Presidents in UP
He was jailed for hate speech in 2014 when Mr Modi was running for PM
Last year, he was present at a rally addressed by Rahul Gandhi
New Delhi:
Imran Masood, a Congressman from Uttar Pradesh who threatened in 2014 to "chop Narendra Modi into pieces", has been given a big role in the state ahead of assembly polls.
Actor-turned-politician Raj Babbar was today named president of the Congress in India's most populous state. Mr Masood, 45, will be one of the four party Vice-Presidents.
Mr Masood, who lost the parliamentary election, was jailed for his hate speech in March 2014 when Mr Modi was running for Prime Minister.
So Congress rewards the "Boti-Boti" man of Uttar Pradesh Imran Masood with the post of UPPC Vice President!Reflects the mind set of Congress

- Sambit Patra (@sambitswaraj) July 12, 2016
Questioned on the controversial choice, Ghulam Nabi Azad, who is in charge of the Congress in Uttar Pradesh, said: "Why don't you ask the BJP of their ministers who are hate-mongers?"
Last year, Mr Masood's presence at a rally addressed by Rahul Gandhi had raised eyebrows, especially as the Congress vice president had publicly disapproved of his hate speech, saying: "Local candidate using harsh words about the opposition. This is not the Congress way."
Mr Gandhi led the 2014 campaign against Mr Modi though he was not declared his party's presumptive Prime Minister.
The Congress result was bite-sized; it won just 44 parliamentary seats, and only two of a possible 80 in Uttar Pradesh - the sole winners were Mr Gandhi and his mother, Sonia, who is Congress President.
Uttar Pradesh votes next year for its next government. While announcing the new positions for Mr Babbar and Mr Masood today, Mr Azad revealed nothing either on the party's chief ministerial nominee or on the exact role that will be played by Mr Gandhi's younger sister, Priyanka Gandhi Vadra.
Election strategist Prashant Kishor, who is working with the Congress, has been urging the party to pick Sheila Dikshit, who headed the Congress government in Delhi thrice, as its choice for Chief Minster for UP. Mrs Dikshit has said she will follow her party's wishes. Mr Kishor is keen for Ms Gandhi to campaign beyond the constituencies of her mother and brother - if she agrees, that will be a first. She met with Mr Azad this morning before the party announced its new line-up for Uttar Pradesh.