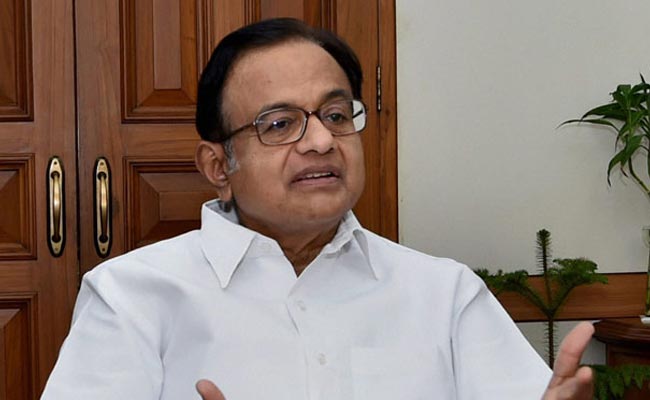 Highlights
Former finance minister attacks centre on job creation
PM had said that person making Rs 200 a day selling fritters not jobless
Comment had opened new wave of opposition attack on centre
New Delhi:
Former Union minister P Chidambaram on Sunday joined the debate on job creation, contending in a series of tweets that India is witnessing a three-year spell of "modest, but jobless growth and the government is clueless about how to create jobs".
Last week, Prime Minister Narendra Modi's remark on a television interview about whether a person earning Rs. 200 a day selling
pakodas
can be considered unemployed, had triggered a debate. Ahead of parliament's budget session, it had dominated on social media under the hashtags #pakodanomics, #PakodaRojgar, #Pakoda and #Pakodafor2019. Job creation is expected to be one of the focus areas of the government in this year's budget.
On Sunday, the former minister, who handled the finance portfolio in the UPA government headed by Dr Manmohan Singh, took a swipe at PM Modi.
5. Even selling pakodas is a 'job' said PM. By that logic, even begging is a job. Let's count poor or disabled persons who are forced to beg for a living as 'employed' people.

— P. Chidambaram (@PChidambaram_IN) January 28, 2018
Another of his eight tweets read: "Another minister wanted MGNREGA workers to be counted as holding jobs. So they are 'job' holders for 100 days and jobless for 265 days".
Pointing out that self-employment is different from job creation, Mr Chidambaram said an average government loan of Rs 43,000 to unemployed youths is not enough to create jobs. The Pradhan Mantri MUDRA Yojana -- launched by PM Modi in 2015 -- provides loans upto 10 lakh to the non-corporate, non-farm small/micro enterprises.
4. Earlier it was claimed that a Mudra loan of Rs 43,000 (average loan size) created at least one new job. Show me one person who can 'create' a new job out of Rs 43,000 investment.

— P. Chidambaram (@PChidambaram_IN) January 28, 2018
In the interview, PM Modi had said, "If a person selling
pakodas
(snacks) earns Rs. 200 at the end of the day, will it be considered employment or not?" It drew sharp comments from leaders of the opposition, who have been attacking the government over job creation in the run-up to the budget session of parliament. The opposition has accused the government of failing to create jobs and the matter is seen as one of the hot button issues for next year's general elections.
Congress chief
Rahul Gandhi has flagged the issue
- topping his list on subjects for PM Modi's Mann ki Baat in an acerbic tweet:
Dear @narendramodi, since you've requested some ideas for your #MannKiBaat monologue, tell us about how you plan to:



1. Get our youth JOBS
2. Get the Chinese out of DHOKA-LAM
3. Stop the RAPES in Haryana. pic.twitter.com/pwexqxKrTQ— Office of RG (@OfficeOfRG) January 19, 2018
He also named job creation high on the list of priorities for the Congress party during his visit to Bahrain earlier this month.
Congress's Priyanka Chaturvedi tweeted: "Hope pakoda selling as jobs created by the incredible #Modinomics model and as an example of Make In India success finds a mention in PM Modi's #WEF18 #Davos speech"
In Bengaluru, India's software capital, Congress workers had sold
pakodas
outside the BJP office.
Hardik Patel, who is spearheading the Patel agitation
for quota in jobs and education, tweeted: "
Berozgar yuvao ko pakode ka thela lagane ka sujav ek chaiwala hi de sakta hai. Arthshastri aise sujav nahi deta!!!,"
(Only a tea seller can suggest to unemployed youth to sell snacks, an economist would not do that)."